Many parents are looking for a lightweight, yet durable, and ultra-compact fold umbrella stroller like the Summer Infant 3Dlite Convenience Stroller. Why are umbrella strollers parents' choices? Because, these strollers are highly portable and ideal for errands, shopping, or a quick coffee. The best lightweight umbrella strollers are strongly built with easy-to-fold mechanisms yet lightweight for making the active parents' life easier.
As an active mother, I was looking for an easy-to-use, lightweight stroller so that I could carry my babies along very easily without much hassle. A lightweight umbrella stroller helped me keep up with my daily routine. The best lightweight umbrella stroller can be your regular go-to stroller as you can fold it compactly and fits in the car trunk.
Do You Need a Lightweight Umbrella Stroller?
The perk of a lightweight umbrella stroller is undeniable. It is hard for anyone to unfold the full-sized stroller every time. The umbrella-style lightweight strollers are for day-to-day errands as a secondary stroller. If you don't need a full-sized stroller at all, then an umbrella stroller can be a portable, hassle-free solution to carry your baby with you on day-to-day errands. Let's find out when you really need a lightweight umbrella stroller:
You prefer a lightweight stroller: Lightweight umbrella strollers are a pared-down version of a traditional full-sized stroller with an extended canopy. This type of stroller is incredibly lightweight and folds into a compact shape like an umbrella with a single tap and also unfolds with a single push. Moreover, the stroller consumes less space to store.
You want a stroller for travel: Umbrella strollers are convenient for travel since they are lightweight and most of them fold with a single tap. With a strap or handle, you can conveniently carry the folded stroller anywhere you like.
You are a city dweller: if you live in a city, it is easier to run errands or go shopping with an umbrella stroller. Umbrella strollers usually have large storage baskets where you can carry shopping bags, diapers, and other baby essentials. Furthermore, the swivel wheels on the most lightweight umbrella strollers make them easier to maneuver through narrow roads or sidewalks.
Babies are older than 6 months: Most umbrella strollers are designed for 6-month-old and older babies. If your baby is in this age group, get the lightweight umbrella stroller as it brings convenience to your daily life.
What to Look for in the Best Lightweight Umbrella Stroller?
Let's find out what makes the best lightweight umbrella stroller before considering buying one:
Maneuverability
The swivel wheels ensure smooth movement on flat, uneven, or curb roads. The swivel wheels rotate 360 degrees to help maneuver through the narrow pathways of cities.
Easy Folding Mechanism
With a fast-folding process, a stroller will save a lot of your time. Some of the lightweight umbrella strollers have one tap folding feature. With this feature, a lightweight stroller secures compact folding with a single tap.
You might find a carrying strap on some of the lightweight umbrella strollers. The straps make it simple to transport the stroller from one location to another. Some umbrellas come with a bag that can be used to pack and carry the stroller like a backpack.
Safety belts
Your baby's safety comes first. Harness or safety belts on the stroller ensure that the baby does not fall off. The 5-point harness is commonly used on the stroller for the baby's safety. Best of harness has paddings for the comfort of the baby.
Comfortable seat
Strollers are used for the babies so they can comfortably rest or sleep on them. The seat should have padding to give the cozy feeling of home.
Brake and lock
Most of the strollers are designed with brakes at the front wheels and locks at the rear wheels. There are hinges for lock and brake on the wheels, which can be turned on with a tap by the toe. You can lock the swivel wheels and fix them to run in a straight line for ease of transportation.
As the umbrella stroller is lightweight, it is important to have brakes on the wheels for the safety of the baby. In some umbrella strollers, brakes are given on two wheels which need to be activated individually.
Extended canopy
The umbrella strollers are designed with a canopy or a sun visor. Sun visor does not give complete protection, but the canopies protect the child from every bit of sun rays. The canopies have extensions that you can put on if the sun is too scorching. Canopies can be 2 folded or three folded. Three folded canopy covers the whole room giving the perfect space for sleeping.
You will find some canopies made from UPF50+ fabric for extra protection from the sun rays.
Reclinable seats
If you are going out for the whole day, your baby needs to be changed and fed from time to time. The stroller having the feature of reclining in multiple positions allows the mother to do all the jobs in one place without any mess. Near to flat recline seat aids in feeding or sleeping for the infant.
Storage basket
When you plan to go out with babies, a bag with change, diapers, towels, toys are always there. To carry the additional bag and push the stroller at the same time can be tiring for the parents. For this, the strollers have spacious storage areas to keep the bags in them. The storage basket has ample space to carry groceries with the baby's necessities as well.
Furthermore, some strollers add rear side pockets to keep small things like wallets, money, cellphones, etc.
List of Best Lightweight Umbrella Strollers:
Chicco manufactures lightweight umbrella strollers with aluminum and fabric. The stroller comes in moon grey with rubber handles to conveniently push the stroller. For parents, it has a cup holder to keep the coffee while driving with the stroller.
Pros
Compact fold with carrying handle
Four recline positions
Adjustable canopy
Secure latch for safe folding
One tap brake
Cons
Difficult to strap the harness
Why we love it
Compact fold with carrying handle: The stroller is foldable with a single hand and secured with a latch. The folded stroller gets easy to carry with the handle attached to one side of the stroller.
Four recline positions: The padded seats recline to 4 different positions giving complete comfort to the baby. The seat does not make a noisy click while changing the positions and stays fixed at the position you set for the baby.
Adjustable canopy: The canopy is expandable and has a visor for sun protection. It provides shade to your baby and lets you monitor when needed with the peek-a-boo window.
Secure latch for safe folding: The stroller has a plastic latch to secure the folding. The latch opens with a single pull when you need to disassemble the stroller.
One tap brake: The back wheels of the lightweight stroller have double swivel wheels. It has brakes, in which you can freeze the movement of the stroller with a single tap. While you are eating, you can tap on the brake to keep the stroller in position.
Things that bother
Difficult to strap the harness:The stroller has a 5-point harness system, but it isn't easy to fit a toddler when they are reluctant to sit straight on the stroller. The baby needs to stay still while you fix and strap the buckles on them.
---
The Kolcraft umbrella stroller is a travel-friendly lightweight stroller as it only weighs 9.5 pounds. It has mesh fabrics for air circulation, preventing the baby from feeling uncomfortable on the seat.
Pros
Lightweight
Compact fold
Large canopy
Brakes at the rear wheels
Cons
Slightly hard to maneuver
Why we love it
Lightweight: This stroller weighs only 9.5 pounds that makes it easier for long trips or tours. This is a compact foldable stroller t can be carried on the car trunk or overhead storage compartment.
Compact fold: It gets irritating when the strollers cannot be folded in one go. This stroller folds easily and is possible to store compactly. Whether at home or visiting someplace, your folded stroller won't take space anywhere.
Large canopy: The canopy on the stroller is designed to protect the infant from the intense sunlight. It has a rear hood that you can open when you need a shade for your child to sleep.
Brakes at the rear wheels: To park the stroller safely at a place, brakes are added at the rear wheels. The brakes can be activated with a single tap by foot.
Things that bother:
Slightly hard to maneuver: The wheels are big and roll well on any road. Occasionally, the wheels get hard while turns through narrow pathways.
---
The 3Dlite Stroller from Summer Infant is a travel-friendly stroller for its lightness and compact design. Aluminum is used to make a durable and stylish frame of the stroller. This umbrella stroller weighs only 13 pounds allowing you to travel light.
Pros
Durable and lightweight
Compact folding
Four-position reclinable seats
Shockproof wheels
Cons
Fixed leg rest
Incompatible with car seat
Why we love it
Durable and lightweight: The aluminum frames of the stroller make it sturdy and lightweight. You can travel with the stroller in public transport without any hassle.
Compact folding: The stroller folds into a mini size to easily place inside a car trunk or an overhead space. The auto-lock feature after folding makes it easier to carry the stroller with the carry strap.
Four reclinable position seats: For the comfort of the baby, you can recline the stroller to 4 positions. It has a 5-point safety harness to keep the baby secure in whichever position the seats are reclined.
Shockproof wheels: The dual front wheels are big and good at maneuvering on bumpy roads. The rear wheels of the stroller prevent sudden shocks and keep your babies safe.
Things that bother
Fixed leg rest: The stroller has a leg rest to support the legs of the babies. But the leg rest is stiff. The legs of a kid might not reach easily when they are infants.
Incompatible with car seat: The stroller frames are not designed to install car seats.
---
The umbrella stroller from JOOVY is designed to carry newborns. The soft seat ensures comfort, and the secure belts present protection. This Turquoise stroller weighs only 15.7 pounds and can carry a maximum of 55 pounds.
Pros
Lightweight
Compact fold
UPF 50 protection canopy
5-point harness
Cons
Incompatible with car seat
Why we love it
Lightweight: The chassis is made of aluminum. It is durable and sturdy to give support to the baby. The stroller weighs only 15.7 pounds that can be carried easily when folded.
Compact fold: This lightweight umbrella stroller is large when opened but also can be folded to a smaller dimension. The stroller auto-locks when folded. You don't have to worry about hurting people while moving with the stroller.
UPF 50 protection canopy: The canopy is opened in two folds to provide extra protection to the baby. The stroller has a peek-a-boo window to monitor your child when needed.
5-point harness: As the stroller has a 5-point safety harness, the babies will stay safe. The interior seat is padded, and buckles are easy to strap on babies.
Things that bother
Incompatible with car seat: Car seats will not be installed on the stroller.
---
The Gb pockit+ stroller weighs only 9.5 pounds which you can carry easily with one hand. This stroller is ideal for traveling for its compact folding. This lightweight stroller can carry up to 55 pounds which are like 5 years old toddlers.
Pros
Ultra-compact fold
Front swivel wheels
Extended canopy
Car seat compatible
Cons
Not adjustable handlebars
Why we love it
Ultra-compact fold: The stroller is easily collapsed into an ultra-compact fold within seconds. For its compact fold, you can easily carry the stroller in the car trunk along with other baggage.
Front swivel wheels: The dual wheels on each side rotate 360 degrees to travel in uneven spaces. The 360-degree rotation aids in taking strong turns in narrow alleys.
Extended canopy: The canopy is built with UPF50+ material to protect from the intense sun rays. The canopy opens and provides the shade needed for the baby.
Car seat compatible: This stroller is compatible with car seat making it comfortable to travel with infants. CYBEX infant car seat is compatible with Gb Pockit+.
Things that bother
Not adjustable handlebars: The handlebar is designed to push with one hand, but the handle is not flexible. The handle can be out of reach for some people if the height is not compatible.
---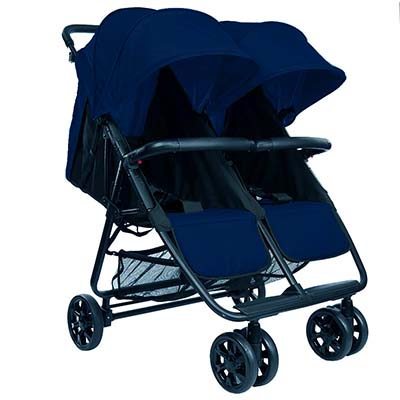 With Zoe Twin+ Stroller, you can go for a whole day traveling with your children. It is a lightweight double stroller with an extended canopy. Your child can eat, play, and sleep with comfort on this double stroller.
Pros
Convenient and lightweight
Disney approved
One-hand fold
Four-panel expandable canopy
Why we love it
Convenient and lightweight: This is a lightweight double stroller where you can travel with your twins or with kids of different ages. The stroller weighs only 19 pounds that can carry a maximum weight of 45 pounds.
Disney approved: People look for Disney-approved strollers because public places do not allow giant strollers. In parks, museums, you cannot travel with strollers that can have enormous space. This stroller can be used in Disney land or in any congested place.
One-hand fold: The stroller has a sturdy handle made of aluminum. With this handle, you can fold the stroller to a mini version for storage. It is helpful when you have your hands occupied with other things.
Four-panel expandable canopy: The stroller has a big extendable canopy to protect the babies from the sun as much as possible. Each of the canopies extends individually in 4 panels which can be opened as needed for the babies.
Things that bother
Not adjustable leg rest: The leg rest of the stroller is very low and cannot be adjusted. The feet of the babies will be hanging due to no support of the leg rest.
---
The G-Luxe Stroller from UPPAbaby is made of washable fabrics allowing the parents to maintain the hygiene of their baby. Parents can easily change the seat position with one hand while running errands. It is a 16.3 pounds stroller that can carry a baby of 3 months old.
Pros
Reclinable seats
Easy carry strap
Self-stand when folded
One-step brake
Cons
No peek-a-boo window in the canopy
Why we love it
Reclinable seats: You can operate this stroller single-handedly. This stroller can be reclined into angles with one hand while you work with the other one.
Easy carry strap: For ease of carrying, the stroller has a shoulder carry strap. A trigger on the stroller folds the stroller in half. It is only 16 pounds once folded and supports your back without aching.
Self-stand when folded: The stroller stands still when folded without any support. As a result, you don't need to look for a wall to help in supporting the stroller.
One-step brake: On the rear wheels of the stroller, a brake latch is given, which can be activated with a single tap.
Things that bother
No peek-a-boo window in the canopy: The canopy is extendable and can be opened according to your need. But it is not easy to monitor the baby because the stroller has no peek-a-boo window on the canopy.
---
Bottom Line
A light umbrella stroller is best-suited for working parents. They can do their work as well as spend time with their babies. Not all umbrella strollers come with all the features. So, choose the one that suits you and is comfortable for the baby.
FAQ
What maximum weight does an umbrella stroller can carry?  
Generally, an umbrella stroller has the capacity of weighing 40 to 50 pounds. Check the manual to know the maximum capacity of your umbrella stroller.    
Are umbrella strollers suitable for newborns?   
An umbrella stroller will be compatible for a newborn if the seat can be relined to a complete lie-flat position. It is advised that umbrella strollers should be used from 6 months old when a baby gains some control over their head and neck.
Amazon Disclaimer:

I research, test, review, and recommend the best products. My content is intended for informational and educational purposes only. If you buy something through links, I may earn a commission at no extra cost to you.

Stroller Insider is a participant in the Amazon Services LLC Associates Program, an affiliate advertising program designed to provide a means for sites to earn advertising fees by advertising and linking to Amazon.com. As Amazon Associates, we earn from qualifying purchases.