Jogger strollers are lightweight, easy to maneuver, and have improved suspension than a regular full-sized baby stroller. These strollers are designed to give your child a smooth, cushioned ride over most terrains. These strollers are produced keeping active parents in mind who love to jog, although many parents use the stroller for travel or day-to-day usage.
So, what makes a stroller a jogging stroller? Normal strollers use four plastic wheels, whereas Jogger strollers use three air-filled wheels. These wheels are durable and larger than regular. Your little passenger won't feel the terrain quite as much. Plus, the front wheel is lockable, which keeps the stroller straight instead of swiveling around like a shopping cart. It is particularly beneficial as you don't need to focus on holding the stroller steady. Rather, you can solely focus on your jogging.
Why should you consider a Jogger Stroller?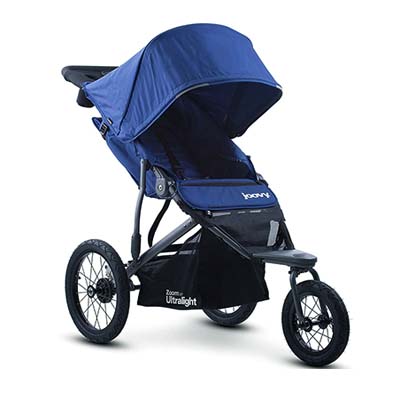 If you are walking around smooth, polished streets, then regular strollers will be just fine. But if you plan to run, or go out on a short sprint with your child, then jogger strollers are a must-have baby accessory. Jogger strollers have excellent maneuverability and can be easily pushed regardless of what surface you are on.
Like normal strollers, jogger models also offer seat reclining option, canopy, padded seats, and a basket to store necessary items. Additionally, you get a convenient wheel locking mechanism, hand brakes, fat tires, and strong suspension. For these features alone, some parents use jogger strollers as their regular stroller.
Safety notes regarding Jogger Strollers
Before you consider buying a jogger stroller, make sure your child is of appropriate age. Babies need to develop proper head and neck strength and should be able to sit on their own. This change happens at around six months of age. However, I would recommend waiting a few months longer to ensure your child is absolutely capable of handling the pressure. For any off-road runs, it is recommended to wait at least eight months. Besides, babies develop physical strength at different rates, so before you head for a running with your baby, consult your doctor first.
7 things to look for in a Jogger Stroller
There are several factors you will need to consider before buying a Jogger stroller. Ideally, you'd be buying it for jogging. At the same time, the usage won't be limited to jogging, you would definitely use it in day-to-day instances. Since your child's comfort and safety is the main priority, I have listed the following important features you need to consider before buying a Jogger stroller.
Final Verdict
Jogger strollers performs excellent on any terrains. These strollers are convenient enough for running around parks, and great option for traveling outside the city. Moreover, most children tend to enjoy jogging time, which allows parents the opportunity to stay fit and active.
Amazon Disclaimer:

I research, test, review, and recommend the best products. My content is intended for informational and educational purposes only. If you buy something through links, I may earn a commission at no extra cost to you.

Stroller Insider is a participant in the Amazon Services LLC Associates Program, an affiliate advertising program designed to provide a means for sites to earn advertising fees by advertising and linking to Amazon.com. As Amazon Associates, we earn from qualifying purchases.