Parents look for all terrain strollers so that they may take their baby out on rougher surfaces like plain, gravel, sandy, snowy, or even hilly tracks for trailing or hiking. These strollers smoothly glide over terrain with shock-resistant all-terrain wheels, enhanced suspension, and a robust frame. Best all terrain strollers offer a joyful ride for the baby on bumpy terrain like this gb Pockit+ All-Terrain, Lightweight Travel Stroller is a smooth glider on any terrain. I have also included a list of the best all terrain strollers in this article, so you can find the best one that suits your need.
List Of The Best All Terrain Strollers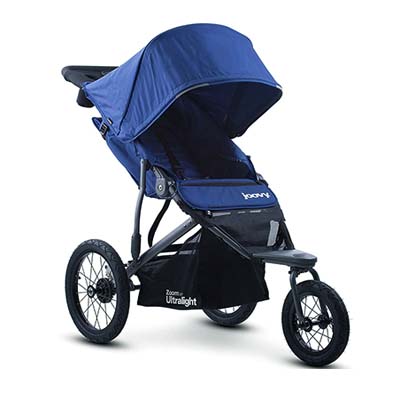 It's Joovy's lightweight all-terrain jogging stroller, a gem of a stroller with large air-filled tires and rear suspension for your jogging needs. It folds quickly and easily and comes with a giant canopy and a spacious basket for all your essentials—highly recommended for day-to-day use. No wonder why this lightweight glider made it to the top of the best all terrain strollers list.
Pros
Smooth ride
Lightweight & compact
Quick fold
locking front swivel wheel
Giant sun canopy
Huge storage basket
Cons
The handlebar is not adjustable.
Why we love it
Smooth ride: Joovy's Zoom 360 Ultralight is an all-terrain capable stroller with 16″ rear wheels with suspension. The wheels are air-filled to take on any surface imaginable.
Lightweight & compact: The high-graded aluminum chassis is lightweight. Besides, the frame collapses into a compact shape that easily fits in any car trunk.
Quick fold: An easy locking mechanism allows folding with a single pulling, super easy as you like.
Locking front swivel wheel: The front swivel wheel is easy to maneuver; as soon as you lock it, the stroller is ready to take on bumpy terrains.
Giant sun canopy: The sun canopy is highly extendable and it is large, providing enough sun coverage that your baby needs.
Huge storage basket: All-terrain strollers are often used as regular strollers, so spacious storage is handy. This Joovy Zoom ultralight stroller has a large and easily accessible basket for stashing essentials.
Things that bother
The handlebar is not adjustable: This highly portable and lightweight stroller does not have an adjustable handlebar; it may be a serious concern for those parents who are taller or shorter.
---
All-terrain-ready Expedition jogger stroller from Baby trend has large wheels that glide effortlessly on any surface. It features a reclining seat, swiveling front wheels, a 5-point harness system, a large canopy, a storage basket, trays, cup holder for parents. It's a budget-friendly best all terrain stroller that won't disappoint you.
Pros
Large bicycle tires
Two trays
Front lockable wheels
5-point harness system
Easy folding mechanism
Cons
Do not fold compact
Heavy when folded
Why we love it
Large bicycle tires: bigger larger bicycle tires glide effortlessly over bumpy terrain. The tires will get you through any landscape without a hitch so that your baby enjoys a joyride.
Two trays: The Expedition stroller comes with two separate trays with a cupholder for you and your baby so that you don't have to worry about snacks, drinks, and baby food. The baby tray can attach to a car seat! Nice perks, right?
Front lockable wheels: The front wheel is swiveling for easy maneuvering, and it's lockable for convenient pushing over bumpy terrain.
5-point harness system: The five-point harness system is there for the safety and security of your baby. It's easy to buckle up.
Easy-folding mechanism: The folding mechanism is top-notch. This stroller has a trigger folding mechanism that easily and effortlessly folds down and quick-release rear wheels for easy transport.
Things that bother
Do not fold compact: Like many strollers, this stroller does not fold compact. However, you can detach the rear wheel to make it more compact and portable.
Heavy when folded: The stroller weighs 25.50 lbs., a bit heavy when folded, which makes this difficult to fit in a small storage area.
---
The Baby Jogger City Mini GT2 Stroller is agile on any terrain with air-filled rubber tires. The all-wheel suspension offers easy rolling on any terrain. Its super convenient features include an easy and compact fold, a user-friendly handlebar, and a hand brake, whereas the calf support and near-flat seat recline offer a joyride for your baby.
Pros
Terrain-friendly
Convertible travel system
Near flat recline
Easy fold
Adjustable handlebar & hand brake
Cons
It's heavy
The storage basket is not accessible
Why we love it
Terrain-friendly: Baby Jogger City Mini stroller has air-filled tires to take on any terrain. The tires are rubber-made, and there is an all-wheel suspension system for easy gliding. It can handle rough terrain easily without any trouble.
Convertible travel system: This baby jogger stroller is a convertible travel system. Car seat adapters come with the box. It is compatible with all Baby Jogger infant car seats and other popular car seats available.
Near-flat recline: The seat reclines to a near-flat position, which means your baby may enjoy more comfort, and more fun while on the go.
Easy fold: The stroller has a signature one-hand compact fold. It's one of the easiest folding mechanisms. The compact fold size fits in any car trunk.
Adjustable handlebar & handbrake: The handlebar is adjustable and user-friendly, and the parking handbrake is easily accessible, offering more control, all within your reach.
Things that bother
It's heavy: This all-terrain jogger stroller is 21.40 lbs. It is on the heavier side compared to any lightweight strollers in this segment.
The storage basket is not accessible: The storage basket has little space, and it's not much easily accessible from the front while the baby is seated or from the back either as the stroller frame comes in between.
---
It's not a typical stroller; the Pivot Xplore is one of the best wagon strollers that accommodate two babies! The wagon can be pushed or pulled, whatever suits you, and is designed with an all-terrain capacity that takes you to explore the world. Adventure is made easier with the Evenflo Pivot explore! I recommend it as the best all terrain stroller wagon you can buy today.
Pros
All-terrain capacity
Double accommodation
You can push or pull the wagon
Compact fold
Easy baby in and out
Cons
Non-adjustable handlebar
The canopies do not lock
Why we love it
All-terrain capacity: This all-terrain four-wheeler wagon lets you take your baby wherever your adventurous mind wants to explore. On a beach or rocky terrain, so no adventures will be missed!
Double accommodation: Dual accommodation is an excellent perk for parents with two kids. The face-to-face position is highly interactive for the babies. A real-deal adventure companion that you and your baby will love.
You can push or pull the wagon: We push strollers; you can also pull this wagon with just a flip of the handlebar. Push or pull, it's super easy and allows you to carry the wagon the way deemed fit for you.
Compact fold: Although it's a double wagon, it easily collapses into a compact shape and fits into a car trunk! It is not difficult to unfold either.
Easy baby in and out: The dropdown feature allows easy access for the baby in and out of the wagon. It's easier for your toddler to get in when you drop down the seat.
Things that bother
Non-adjustable handlebar: The handlebar is non-adjustable. Parents with more than 6 feet may have to bend a bit to push or pull the wagon.
The canopies do not lock: The canopies are adjustable and never lock into a place. Your baby may find the canopies as a plaything.
---
Ultra-lightweight, super-compact, and boasting all-terrain-ready wheels, the gb pockit+ comes with a UPF 50+ canopy and a reclinable seat. It is an easy-to-use and travel-friendly solution to take your baby anywhere your adventurous mind wants to wander with your baby. It's the best all terrain stroller in the lightweight category.
Pros
All-terrain wheels
Compact design
Lightweight
Front lockable swivel wheels
Durable and flexible
Why we love it
All-terrain wheels: The all-terrain wheels define this super convenient, lightweight stroller. The stable and agile wheels make the stroller easy to maneuver over any terrain.
Compact design: The stroller is designed to be ultra-compact, and it collapses easily to fit in most compartments or a bag! So, it is a great travel companion and an easy-to-transport all-terrain stroller.
Lightweight: It weighs only 12.3 lbs.! So, it can be pushed or steered one-handed effortlessly—one of the lightest strollers we have come across. When folded, the ultra-lightweight gb pockit+ is easy to carry.
Front lockable swivel wheels: The front wheels swivel to allow you to easily navigate city streets and turn narrow alleys. Although the stroller is lightweight, the wheels are super-stable to take on bumpy terrain with the aid of the front wheel lock.
Durable and Flexible: Despite its lightweight construction, the Pockit+ is sturdy enough to take on uneven terrain. At the same time, its flexible construction is travel-friendly.
Things that bother
Lack of storage space: Its highly portable and lightweight design left little space for storage. It is too small to carry a water bottle or a few toys only.
---
A super-sleek and stylish all-terrain stroller by Delta Children that supports car seats. It comes with a swiveling and lockable front wheel, an ergonomic handlebar, a reclining seat, an extendable sun canopy, a convenient parent tray, and a huge storage space. The stroller collapses effortlessly into a compact shape for easy transportation.
Pros
Smooth ride
Convertible travel system
Spacious storage
Compact fold
Budget-friendly
Cons
The canopy doesn't have enough coverage
Handlebar not adjustable
Why we love it
Smooth ride: This stroller offers a smooth ride over any terrain thanks to its extra-large wheels, swiveling front wheel, and comfortable reclining seat. The front wheel is lockable for an easy glide over any terrain.
Convertible travel system: Compatible with car seats so that you can enjoy travel with your baby without much hassle. Car seats are easily attached to this stroller.
Spacious storage: It comes with massive storage underneath the carriage that fits a large diaper bag. It also comes with a parent tray with two cup holders and separate spaces for key rings, smartphones, etc.
Compact fold: The stroller folds compactly and collapses easily and effortlessly. The wheels are removable to make them more compact.
Budget-friendly: The price tag is cheap, considering an all-terrain jogger stroller. It won't break your bank!
Things that bother
The canopy doesn't have enough coverage: The canopy offers excellent sun protection, but the canopy is not extendable enough to reach full coverage.
Handlebar not adjustable: The handlebar is not adjustable, which might be an issue for taller or shorter parents.
---
BOB revolution flex 3.0 is ready for your errands or jogging from plain to off-road. This stylish and super-sleek stroller comes with a lockable swiveling front wheel, a mountain bike-like robust suspension system, and air-filled rubber tires. Besides, It's compatible with car seats. Maybe on the last, this is one of the best all terrain strollers you can consider for day-to-day use.
Pros
Incredible suspension system
Lockable swivel front wheel
Travel system ready
A lot of pockets
Cons
2-step Folding
It is on the heavier side
Why we like it
Incredible suspension system: This all-terrain jogger stroller has a rear-wheel mountain bike-like suspension system. It's simply stunning and offers a joy ride for your baby. This robust suspension system lets you stroll around any terrain without any glitches.
Lockable swivel front wheel: The front wheel is swiveling for easy maneuvering around the corners and, at the same time, lockable for handling rougher surfaces. The locking system is user-friendly with easy accessibility.
Travel system ready: It is Compatible with BOB or Britax infant car seats with adapters (You have to buy separately) and other popular brands. With the addition of car seats, now you can go anywhere you are traveling.
A lot of pockets: This stroller has one smaller pocket, three seat-back pockets, two in-seat snack pockets, and one storage basket. All of these are handy for regular day-to-day usage.
Thing that bothers
2-step Folding: The folding system is a bit complex. I would suggest trying it out a few times before going out with it.
It is on the heavier side: It's not easy to carry with one hand like the lightweight strollers. The item weighs 28.5o lbs.
---
Why should You Buy an All-Terrain Stroller?
Best all terrains are capable of gliding over rougher terrains, sand, gravel, or beaches. You can take your baby hiking or trailing. These strollers are produced keeping rough terrain in mind. Some people may confuse it with a jogging stroller. Best all terrain strollers perform better in maneuvering over rugged surfaces, whereas a jogger stroller is a specialized stroller for jogging or running in a park. The best all-terrain strollers won't fail you even on the off-roads.
Best Jogging strollers are typically lighter than the robust and heavier all-terrain strollers, keeping your intention of jogging or power running in mind. However, the best all terrain strollers are more capable of handling off-road trailing, beach-walking, and hiking or in rural areas where the surface is not always the same.
The all-terrain stroller is a hybrid version of a regular stroller and a jogging stroller. These strollers are designed with large and thick tires to take on the roughest terrain, such as stony tracks or deep snow. At the same time, like a regular stroller, all terrain strollers have a larger storage basket, a sturdy chassis, and a convertible travel system.
So, in case of frequent off-road strolling, trailing, hiking, or moving around uneven surfaces with your toddler, all-terrain strollers are the best option for you.
How to Choose the Best All Terrain Stroller
Amidst many strollers' claims as "all-terrain", best all terrain strollers are tricky to find. So, I have compiled a list of factors to determine the best all-terrain strollers. Check them and make sure your stroller performs up to the mark on these factors before you buy it.
Terrain capacity
Best all-terrain strollers are more terrain capable, whereas jogging strollers move around smooth surfaces better than rough ones. You may take jogging strollers to uneven surfaces. All-terrain strollers perform better on rougher terrain than jogging strollers.
Air-filled wheels, enhanced suspension, and front-wheel lock ensure better terrain capacity. Most all-terrain strollers glide well on uneven or rough terrain. On top of that, the best all terrain strollers have a swiveling front wheel for added stability and easy movement.
Safety
Every stroller today comes with a five-point harness system since it's proven safest for babies. It's crucial to choose the best all terrain strollers since you may go for off-road strolling. However, in the suspension system, in rugged terrains, safety is a big issue for conscious parents.
Adequate storage
Stroller storage is vital for most parents. The storage makes life easier, so you don't have to carry any separate bag while pushing. Groceries are more manageable with stroller storage. Moreover, trays let you carry and organize stuff like drinks, snacks, and toys.
A jogging stroller does not usually come with spacious storage, so if you use an all-terrain as a regular stroller, check on the storage capacity to make sure it's enough for you. Best all terrain strollers come with huge storage space.
Car seat compatible
Since an all-terrain stroller is subject to extensive use, it's easier for you to travel all day if it's compatible with car seats or carrycots. Best all terrain strollers allow you to carry a newborn in a car seat. Make sure popular car seats are compatible with your stroller or at least support car seat adapters.
Lightweight
All-terrain strollers, like regular strollers, are bulkier and heavier than an umbrella or jogging stroller. If you can manage to buy the best all terrain stroller, it would be lightweight, and easier for you to travel or go hiking.
Easy folding
Folding a bulky stroller like the all-terrain is annoying. But the best all terrain strollers should be easier to fold (don't expect to find one that is super easy to fold or lightweight as an umbrella stroller).
Final Thoughts
All terrain strollers are best for uneven terrain due to their advanced suspension system, large lockable wheels, and sturdy frame, which together make a stroller all terrain. Best all terrain strollers are pretty good at maneuvering over rougher terrains. We have carefully selected strollers on this list that are best in their category. I hope you find your best all terrain stroller from my list.
FAQs
What is an all-terrain stroller?  
An all-terrain stroller features stronger wheels and large rear tires, a shock-absorbing robust frame, and enhanced suspension to glide over bumpy or rougher terrains with ease.  
Typically, all-terrain strollers come with three wheels – one front and two larger rear wheels to offer stability.
Who needs an all-terrain stroller?  
All-terrain strollers are most suitable for hiking, trailing, and travel destinations. All-terrain buggies are ideal for any off-road strolling, whereas all-terrain jogging strollers are best for jogging or running.
What is the difference between an all-terrain buggy and a lightweight jogging stroller?  
It's the frame that is different in both types. Usually, jogging strollers are flexible and lighter than the all-terrain buggy. The other features are identical. Whereas all-terrain strollers are stabler in uneven or rough terrains, jogging strollers are easier to push while running around parks.  
An all-terrain buggy is a hybrid of regular and jogging strollers since it's suitable for light jogging. If you are a serious jogger who jogs regularly, consider purchasing an all-terrain jogging stroller that suits your requirement for one or two babies. 
Are UPPAbaby strollers all-terrain?
No, not all UPPAbaby strollers are all terrains. However, Vista models offer robust all-terrain wheels, advanced suspension system to glide on most terrains. These are not specialized all-terrain strollers but still have great off-road gliding capacity.
Which stroller is best for hiking?
The Baby Jogger City Mini GT2 is our best pick for hiking with your baby.   
It has a hand brake for added stability and an adjustable handlebar for a secure hold. It comes with an advanced wheel and suspension essential for hiking and, at the same time keeping your baby comfortable. Note that the Baby Jogger City Mini series, including the City Mini 2, City Mini GT, and City Mini GT2 single and double strollers, are not suitable for jogging or running.
What's the difference between a jogging stroller and a regular stroller?
A jogging stroller features a lighter frame that is very easy to control and maneuver over while you are at speed. In contrast, a regular stroller has a more robust frame.   
All-terrain jogging strollers boast larger wheels and a suspension system that is best to absorb shocks. Whereas a regular stroller may come with four wheels, they are less agile, have different suspension systems, and have a heavier frame than the jogging strollers.
Are all-terrain strollers good for everyday use?  
Yes, all-terrain strollers roll everywhere regardless of plain or uneven surfaces. Although most all terrains are suitable for off-road gliding, all-terrain umbrella strollers are better for everyday use. They are lightweight and have all the necessary features that a regular stroller boasts.  
Can you take an all-terrain stroller on the beach?  
Some specific models are good to go for beach terrain. It is better than the stroller has larger air-filled wheels essential for gliding smoothly over loose sandy landscapes.  
Can I use an all-terrain stroller with my newborn?
Some specific all-terrain strollers are suitable for your newborn. An all-terrain stroller that is compatible with a car seat or carrycot is ideal for newborns.
Is a 3- or 4-wheel stroller better?  
Typically, a 4-wheeler is best suitable for everyday use. If you want to Jog with your stroller, a 3-wheeler is best for maneuvering on uneven ground, even while you are running at speed. Whereas we recommend not to run with a 4-wheeler stroller as they are less stable on uneven surfaces.  
At what age can you jog with the baby in the stroller?  
The recommended age is 6 months old for your baby to be your running mate. Running with a stroller involves shaking. Toddlers over 6 months are capable of handling the shock. However, a few specific models support car seats or carrycot that allow jogging with a newborn; if you need to carry your baby while jogging, consider taking these strollers.   
Can you run with a 4-wheel stroller?  
No, a 4-wheeled stroller is not recommended for running. Consider purchasing a 3-wheeled stroller since these are agile, smooth, and stable on rough surfaces.
Related Posts

8 Best Stroller Wagon For Beach In 2022
9 Best Lightweight Jogging Strollers [2022]
10 Best Lightweight Infant Strollers [2022]
Amazon Disclaimer:

I research, test, review, and recommend the best products. My content is intended for informational and educational purposes only. If you buy something through links, I may earn a commission at no extra cost to you.

Stroller Insider is a participant in the Amazon Services LLC Associates Program, an affiliate advertising program designed to provide a means for sites to earn advertising fees by advertising and linking to Amazon.com. As Amazon Associates, we earn from qualifying purchases.