Value for Money
Key Features
Carrycot compatible
Lockable front-swivel wheels
Compact and lightweight stroller
Best Budget
Key Features
Ultra-Lightweight stroller
Large Canopy
Reclining Seat
Extra Storage basket
Writers Choice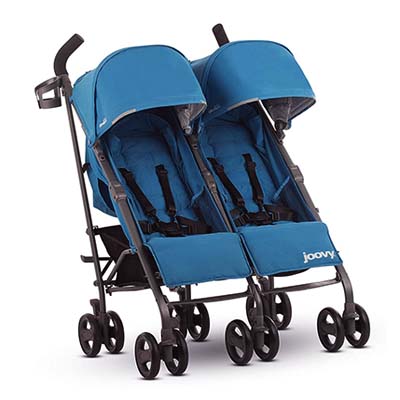 Key Features
Ultra-lightweight
Compact fold
Weight capacity up to 100 lbs.
Lockable swivel wheels
As an active mother of three, I always looked up a lightweight stroller since these are light, surprisingly portable, and match my lifestyle. Do you know a double stroller can be light in weight? Traveling with two kids can be difficult at times, but a double stroller can make the travel comfortable and pleasing. While considering buying a double stroller, the first thing that comes to mind is that these are heavy in weight and bulky in size. But in fact, there are some surprisingly light double strollers, here I am wrapping in the best lightweight double strollers.
First, let's find out different types of double strollers
Types of Double Strollers
Twin strollers or side by side stroller
Twin strollers have seats attached side by side. They are roomy and provide the comfort that your baby needs. This stroller is easy to move and stroll around in public areas, but it can be a hassle when you use it in a narrow sidewalk or alley. If you buy a wide stroller like a side-by-side stroller, you might have to check in your double stroller with other baggage while traveling by plane.
Tandem strollers
The seats are attached vertically in a Tandem stroller, and it is easier and convenient to carry both the babies. But occasionally, the second seated baby's view often gets restricted with different configurations, including a car seat or a bassinet. Compatible Adapters can solve this awkwardness. Most tandem stroller frames are compatible with car seats and bassinets. Most of the double tandem strollers ensure enough spaces in between seats so that both the baby has a chance to explore the world together.
All terrain double strollers
This all-terrain double stroller is a better option if you want to take your kids out while you jog or hiking. It has big 3 wheels to move around the park quickly. The wheels of the strollers are big, having better suspension that offers a smooth ride to parks, trails, or dirt paths. Better suspension wheels of an all-terrain stroller can overcome the high curbs or rough spaces easily. You can also make a comfortable turn on tricky turning points without reversing the tandem stroller.   
Sit and stand strollers
For the parents who have a 6 months toddler and a 2/3 years old kid, sit and stand stroller will be advantageous. Grown-up toddlers are usually restless; they don't like to stand or sit on a stroller all the time. This stroller has seating space for the younger ones and a vertical bar for the older kid. Some of the strollers have seating arrangements, too, along with a standing board. You might need to buy a standing board separately if needed.
Umbrella double strollers
Most Umbrella double strollers are Disney-approved strollers. They are compact and lightweight, which you can easily carry. In general, the double stroller has padded seats, a vast storage area, extended canopy with peek-a-boo windows to look out for your baby.
Check out the 10 best lightweight double strollers that you can buy today:
1. Best Overall: Baby Jogger City Tour 2
The double stroller from Baby Joggers enables fast-folding, auto-locking, and storage features. The seats can be reclined back, close to a flat position. It has a canopy built with UV50+ materials that give a view through the transparent material.
Pros
Carrycot compatible
Lockable front-swivel wheels
Compact and lightweight stroller
Adjustable calf
Why we love it
Carrycot compatible: The frames of the stroller is compatible with City Tour 2 Double Carry Cot. Now, traveling with newborns has become easier with this stroller.
Lockable front-swivel wheels: The stroller has 4 large wheels for convenient movement on all-terrain surfaces. The front swivel wheels are easily lockable to park whenever you need. It will fit through any ordinary doorway and will allow you to turn in small passageways.
Compact and lightweight stroller: The stroller is only 11.4 pounds. It has light wheels. As a result, when folded, they fold to 1/3rd of their original size. The lightness and ultra-compact folding help in storing the stroller in small areas.
Adjustable calf: For comfort and support, the stroller has padded adjustable calves along with padded seats. The adjustable calf allows the babies to relax and stretch in the stroller and find comfort accordingly.
Things that bother
Not a comfortable carry: The strollers fold easily with 2 steps folding and lock automatically. But the handle does not stay still and hits legs occasionally while moving.
---
2. Best Budget: Kolcraft Cloud Plus Double Stroller    
This lightweight double stroller from Kolcraft is a three-tier canopy that weighs 23 pounds and can be folded by standing for compact storage. The seats are padded with a 5-point harness system for safe maneuvering. Moreover, the double stroller has double storage at the bottom of the seats.
Pros
Ultra-lightweight stroller
Large canopy
Reclining weat
Extra storage basket
Self standing fold
Cons
Not compatible with Infant car seats
Why we love it
Ultra-lightweight stroller: This is an ultra-lightweight stroller designed for quick trips to the park or long traveling. The stroller is 31 inches in width when assembled. It is convenient to maneuver with kids as well as carry on shoulders.
Large canopy: The canopy of the double stroller is vast to give maximum protection from the sun. The canopy can be opened in 3 panels depending on the necessity. The canopies work individually, which means you can fully open one canopy, and another one can stay folded simultaneously.
Reclining seat: The seats are reclinable for the comfort of the kid. Both the seats are reclinable, but they do not recline near to flat position. It has a 5-point harness system to ensure safety when the seats are reclined in any position.
Extra storage basket: Two separated mesh baskets are added to the base of the seat. The bags are easy to access for the babies. Moreover, parents can carry their regular groceries or shopping bags in those two large baskets.
Self-standing fold: The lightweight double stroller folds quickly and self-stands which requires no support. For its compact fold, it fits inside a car trunk to carry it for long vacations.
Things that bother
Not compatible with Infant car seats: The stroller is not designed to fit in car seats. It is troublesome for parents who drive a lot.
---
3. Best Umbrella: JOOVY Twin Groove Stroller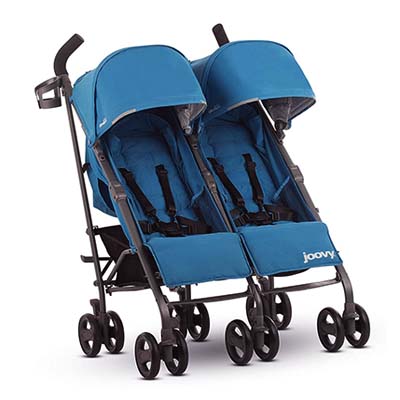 JOOVY Twin umbrella stroller lightweight and great travel companion if you carry your baby. A newborn can take a nap on each seat of this stroller comfortably. This amazing umbrella stroller has an easy-folding mechanism with an auto-lock feature, a great feature to have for a travel stroller.
See Also: Best Double Stroller for Travel
Pros
Ultra-lightweight
Compact fold
Weight capacity up to 50 lbs.100 lbs. max
Lockable swivel wheels
Adjustable leg rest
Cons
Not self-standing
Complex brake system
Why we love it
Reclinable seats: For the comfort of the baby, parents can recline the padded seats to multiple positions. The newborns can take a cozy nap on the padded seats. The seats can be reclined near-flat positions.
Compact fold: The double stroller has the feature of compact fold and automatically locks when the stroller is folded. The locked stroller has a shoulder strap for carrying among crowded areas.
Weight capacity up to 50 lbs.100 lbs. max: Each of the seats of the stroller can take a weight of 50 pounds easily. In total, you can travel a maximum of 100 pounds on this stroller effortlessly.
Lockable swivel wheels: The swivel wheels of the stroller are lockable. The wheels rotate 360 degrees that aids in taking a turn in a narrow path. The wheels are lockable when you want to park them in parks or restaurants.
Adjustable leg rest: The stroller comes in fully padded and flexible leg rest to support the tiny feet of your babies. As your child grows older, you can adjust the leg rest.
Extra storage space: The stroller has separate storage bags at the base of the seats. Extra zippered bags are also attached for the parents to keep the valuables.
Things that bother
Not self-standing: When the stroller is folded, it needs support to keep it standing. The stroller is stored by placing it against a wall or lying on the ground.
Complex brake system: The stroller has one brake on each wheel. Each of the wheels needs to be pulled separately to activate them.
---
4. Best for Infant and Toddler: Baby Trend Sit N' Stand
The Baby Trend double stroller is designed with various riding positions for the babies. The stroller frames are made of carbon steel that ensures durability. It has one spacious storage basket to carry bags or accessories for two babies.
Pros
Multiple riding positions
Car seat compatible
Compact folding
5-point safety harness
Why we love it
Multiple riding positions: The stroller has multiple riding positions. The front and rear seats are compatible with 2 car infant seats where parents can set car seats facing inward and outward on the stroller. A wide platform at the back of the stroller allows your baby to move around by standing.
Car seat compatible: Traveling with your newborn is comfortable with this stroller. The chassis accepts most of the Baby Trend and major brand's car seats.
Compact folding: The stroller is designed to fold it using one hand. It has a latch to lock the stroller after folding for safe carrying.
5-point safety harness: The 5-point harness on the stroller ensures extra safety for the babies. The harnesses are padded to make them comfortable for the babies.
Things that bother
Fixed leg rest: The stroller comes with a leg rest allowing your baby to put their legs in a comfortable space. However, leg rest is not flexible, and it can be unreachable for kids up to a certain age.
---
5. Best Side by Side: Jeep Destination Double Stroller   
Delta children have added a one-step brake lock on the rear wheels for easy access to parking. The perfect padded seats give the feel of a haven to the infants. The double stroller can be folded with one hand and stored on its upright position. It is fast to fold and unfold for your convenience.
Pros
Lightweight
Compact stroller
Smooth riding wheels
Safe & comfortable stroller
Cons
Incompatible with car seats
Why we love it
Lightweight: This double stroller weighs only 28.7 pounds. For its compact fold, it fits on the car boot and helps to travel light.
Compact stroller: The stroller is spacious when unfolded, allows the babies to have ample room to sit. It gains a compact size when folded. The folded stroller is suitable to carry on the car truck to go on an extended vacation.
Smooth riding wheels: The front wheels are 7 inches with swivel locks, and the rear wheels are 10 inches. These wheels help to maneuver the wheels on bumpy roads. The back lock is activated with a single step.
Safe & comfortable stroller: This double stroller has padded multi-position reclining seats and long food rest for the comfort of the babies. The 5-point harness system keeps your kids safe and prevents any mishaps.
Things that bother
Incompatible with car seats: The stroller is not suitable for attaching a car seat.
---
6. Best for Travel: Zoe Twin+ Lightweight Stroller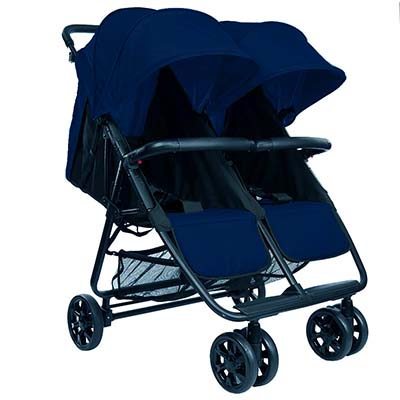 The frames of the Zoe twin stroller are made of lightweight aluminum. It has a long and tall handle that has enough space to get the grip. With large wheels and magnetic peek-a-boo windows, it can be the best lightweight double stroller.
Pros
Lightweight twin stroller
Easy collapse and foldable
Expandable canopy
Why we love it
Lightweight twin stroller: The stroller is built with lightweight materials for easy travel. Its lightweight feature aids in running to catch a flight or train. The stroller weighs only 19 pounds.
Easy collapse and foldable: This Disney-approved double stroller is built with easy collapse and fold technology. Its fast-folding features let you go hiking or picnic with this stroller.
Expandable canopy: The canopy of the stroller is designed to cover the whole seat and give enough space for the baby to rest. It is a 4-panel canopy with UPF50+ protection, which protects the babies from dangerous ultraviolet rays.
Things that bother
Not adjustable footrest: The double stroller has no adjustable footrest to support the tiny feet of your babies.
---
7. Best Small: Mountain Buggy Nano Duo
The Mountain Buggy engineered their double stroller to make it travel-friendly. It has big EVA wheels to give comfort on uneven roads. In 2 easy steps, it can be compactly folded and carried by shoulder with the shoulder straps.
Pros
Car seat compatible
Ultra-lightweight stroller
Adjustable leg rests
Sun canopies with flick out visors
Why we love it
Car seat compatible: Strollers that are compatible with car seats to travel with newborns. This double stroller is adaptable with car seats if you can manage the adapter. With the car seat adapter, most of the car seats can be added.
Ultra-lightweight stroller: The weight of the stroller is 20 pounds. Due to its lightweight nature, it is travel-friendly. You also don't have to push harder, which is safe for carrying the infants in it.
Adjustable leg rests: The leg rest double stroller is possible according to your growing baby. You can separately set the leg rest for both babies as needed.
Sun canopies with flick out visors: The canopies are extended and open 2 folds to give coverage to the kids. The third layer is a flick-out visor to provide a dark environment to let the baby sleep in peace.
Things that bother
No auto-lock in folding: The double stroller does not lock automatically as it is folded. You might have to hold the stroller withheld to prevent it from unfolding unexpectedly.
---
8. Best Tandem: Joovy Caboose Tandem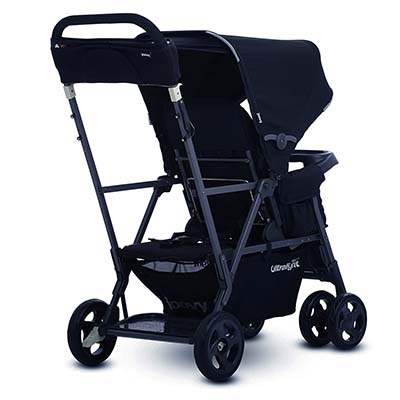 Lastly presenting you the ultra-light tandem stroller from Joovy made of polyester and aluminum. For safety, the stroller comes with a 3-point harness. The removable tray will provide extra security if you attach it all the time.
Pros
Smooth maneuverable
Storage basket and organizer
Extended canopy for rear seat
Cons
Storage is not easily accessible.
Why we love it
Smooth maneuverable: For its lightweight, it is easy to move with the double stroller as folded or unfolded. It can pass through any narrow lanes or doorways without any trouble.
Storage basket and organizer: The double stroller has a spacious storage basket to carry diapers, clothes, and shopping bags in it. It also comes with a parent organizer and a universal car seat organizer. As a result, you can easily use the stroller with car seats and move around freely with your kids.
Rear seat canopy extension: The back of the reclinable seat has a rear seat for your older baby to sit on. The canopy of the front seat is wide enough to give shade to the rear seat. The baby will get sun protection when seated on the rear seat.
Things that bother
Not adjustable with car seats: This lightweight stroller has a roomy seat, but the frames are not designed for car seats. Your car seats won't be fitted on this lightweight stroller.
---
9. Best for Air Travel: Evenflo Aero 2 Double Stroller    
The double stroller from Evenflo guarantees compact fold just by lifting the seat handles. The seats are reclinable for your baby to relax while on the stroller. It has a convenient storage option that amplifies the storage space when rising with one kid.
Pros
Self-standing fold
Storage basket
Seats are reclinable
Why we love it
Self-standing fold: The double stroller can be folded to a minute version. After folding, it can stand on its own at any place you keep. This saves much space as it can be stored vertically behind a door or curtain.
Storage basket: The stroller has a joined large mesh storage basket at the base. You can carry your shopping bag in it when you go out with the kids and their bags. Moreover, it has in-seat mesh pockets where you can securely hold your groceries if one of your kids does not want to sit.
Seats are reclinable: The soft padded seats confirm the comfort of the babies. For sleeping, the seats can be reclined in positions that will not disrupt the infants. The seats can be operated separately as the mood of each baby.
Things that bother
Non-adjustable leg rest: The stroller has individual leg rests for each seat. The leg rests are wide and are not adjustable. Your babies need to grow to a certain height to reach leg rest.
---
Do You Need a Lightweight Double Stroller?
If you have two kids, it is favorable to use double strollers rather than two separate strollers. For frequent use, a stroller that is less heavy, safe, and comfortable is ideal for you. From running errands to visiting parents, a double stroller for your kids will provide comfort for on the move. A lightweight stroller is convenient for travel overseas or shopping too.
What to Look for In a Lightweight Double Stroller?
Since there is no definition of what we call "lightweight" from my experience, I have selected the best double strollers that weigh less than 28 pounds. I hope it is light enough for you. Below I have listed down the must-have features you need to look at before deciding on buying a lightweight double stroller.
Both seats reclining
Most double strollers have reclining positions, keeping comfort and convenience in mind. But often, in tandem strollers due to the canopy or awkward positioning of the main seat, configurations with a car seat or bassinet obstruct the view of the second seat. To ensure the comfort of the kids, both the seats should have reclinable functions and have enough space between seats when reclined.
Side-by-side or tandem stroller
Both of the stroller types come in different shapes. You can choose a side-by-side stroller or tandem one to run your regular errands or travel with it. The decision is onto you on the type that matches your need. Usually, the side-by-side ones take up more space and are not suitable for moving through narrow alleys or super shops. But there is an advantage for twin toddlers. Both the seats have equal weight capacity, and both babies get equal freedom to explore the world. Whereas tandems take up little space as a single stroller and are convenient to push.
Canopy
Canopy or the sunshade protects your kids from sunburn and lets them sleep in comfort. If you are on tour with your kids to Disney on a sunny day, the scorching heat will bother them. 2 to 3 extended panels of the canopy are expected from a lightweight double stroller. The umbrella double strollers have an extended canopy that can be folded and opened separately.
Weight capacity
The double strollers have a specific weight capacity to carry. In the case of tandem strollers, the second seat has less capacity than the toddler seat. The brands usually mention the total weight capacity for both seats. Note: as the brand varies, the weight range differs too. For which you need to keep the weight of babies in mind before choosing a double stroller.
Compact fold
With the compact fold feature on your lightweight double stroller, you can travel light. The compact folded stroller will be convenient to carry in your car trunk with your other baggage. If you board on public transport like trains, planes, buses, there may be restricted storage space for the passengers, a compact fold of the strollers allows you to store it in the space provided.
Storage space
Going out with two kids means carrying double items such as feeding bottles, towels, diapers, etc. Your double stroller should have enough space in the storage basket to carry the belongings of your both babies. Moreover, you can carry some of your groceries too while on the go.
Final Thoughts
The best perk to owning a lightweight double stroller is that it is lighter than the traditional double strollers and gives ample space to carry both your babies in comfort. All the strollers included in this article is light in weight and offers comfort to your baby. Hope you have found one that is suited to your need. Thank you for reading.
FAQ
What is the best lightweight double stroller?
Baby Jogger City Tour 2 Double Stroller is the best lightweight stroller for its 11.4 pounds weight. It quickly folds and auto-locks in seconds, making traveling easier.
Can I take my double stroller on an international flight?   
Yes, you can carry your double stroller if the stroller meets the size requirements of the airline.    
How to make my double stroller compatible with a car seat?   
The double strollers can be compatible with the car seat by adding a universal or compatible car seat adapter.    
Related Posts

The 9 Best Stroller Wagons Of 2022
List Of 10 Best Lightweight Strollers For 5 Year Old (Including 3, 4, And 5 Years)
10 Best Lightweight Travel Strollers That You Can Buy In 2022

Amazon Disclaimer:

I research, test, review, and recommend the best products. My content is intended for informational and educational purposes only. If you buy something through links, I may earn a commission at no extra cost to you.

Stroller Insider is a participant in the Amazon Services LLC Associates Program, an affiliate advertising program designed to provide a means for sites to earn advertising fees by advertising and linking to Amazon.com. As Amazon Associates, we earn from qualifying purchases.