Luxury strollers do not mean fancy or extravagant strollers. A luxurious high-end stroller is a fully functional, elegantly stylish, top-notch built quality, uses premium materials like this Bugaboo Fox 2. Best of the strollers in this genre offers versatility, an array of features, smooth maneuvering so that you can experience more than just a stroller.
What Makes a Stroller Luxurious?
Brands like UPPABaby, Bugaboo, and Cybex have luxury strollers in their line-up. High-end strollers offer customizable options, use the highest quality fabrics available. Many of these exclusive strollers cost as high as $1000 and more. Whereas standard, mid-range strollers offer decent build quality and design, the price tag remains much lower, luxurious strollers boasts:
Premium Build Quality: High-end strollers use PU leather and cushioned seats, lightweight graded aluminum, and rare and expensive materials. Above all, the overall finishing and ergonomic build quality create impressions that are missing in standard strollers.
Elegant Design: Luxurious strollers invoke elegance in design and make a statement, usually designed by artists and exclusive line-up; some are limited edition and are not available in bulk.
Premium Experience: These strollers are not only come with an expensive price tag but also offer smooth maneuverability. The seats, wheels, handlebars, and storage baskets are brilliantly crafted to provide you with a premium experience while strolling your loved little one. Your baby's smile will tell you more!
Without further ado, let us present you with a line-up of the best luxury strollers that takes functionality and design to the next level and offers a lasting impression that matches your lifestyle.
With Bugaboo Lynx, expect everything that a Bugaboo stroller offers in a lightweight package offering a compact fold option. It is a light, luxurious buggy yet durable and capable of gliding on multiple terrains. It also comes with a 50+ UPF canopy and mesh peek-a-boo window.
Pros
Lightweight
Multiple terrain capacity
Spacious carrycot
Large basket capacity
Folds with seat attached
Cons
Carrycot bar obstructs the view of baby
Why We Love It
Lightweight: The Lynx weighs only 20.7 lbs., which is 7 lbs. lighter than a full-sized stroller like UPPAbaby Vista. You will feel the difference if you get your hands on it. For parents who are looking for a light and compact full-sized stroller, Lynx is the must-consider thing.
Multiple Terrain Capacity: This premium buggy is excellent for the city and suburbs. If needed, the wheels, suspension, and brake combined will support in rougher territories too. The improved suspension offers a comfortable ride for your baby.
Spacious Carrycot: Lynx's spacious and deep carrycot is for those who are looking pram for larger babies. Your baby will not cramp for space means more smiling while on a ride.
Large Basket Capacity: Don't worry about carrying a handbag or a separate bag, since the spacious and larger basket of Bugaboo Lynx's can hold up to 20 lbs. You don't have to leave behind any necessities at all.
Folds With Seat Attached: Lynx folds very quickly with few simple steps, and you can store it in a standing position. It won't take much effort to adapt to it. The best thing is you can fold it with the seat attached!
Things That Bother
Carrycot Bar Obstructs The View of Baby: If the carry bar is attached, you may not be able to see the baby's entire face. Its awkward positioning won't allow you.
---
The UPPAbaby Vista V2 is the latest full-sized stroller that is mostly known for its versatility, functionality, and iconic style. It's a convertible double stroller with endless configurations. Supports compatible second seat AKA RumbleSeat, car seat, bassinet, carrycot. The premium fabric, durable frame and larger basket, and the stylized features that fit the need of modern urban parents-One of the most trendy luxurious stroller available in the market now!
Pros
Sturdy and durable
Convertible as double Stroller
Suitable for newborn to toddler
All-terrain capacity
Easily adjustable handlebar
Trendy design
Cons
Big in size and heavy
Not a compact fold
Why We Love It
Sturdy and Durable: Vista V2 is a heavily built full-sized stroller that is build to last long. The Aluminum/magnesium frame with anodized finish, premium fabrics, leather handlebar, PU materials on wheels made the stroller exceptionally strong.
Convertible As a Double Stroller: The Vista V2 is a versatile and functional double stroller. You can easily convert it to a double stroller with the addition of a Rumble Seat or a bassinet, a carrycot, or car seat; mix these at your convenience or whatever suits you.
Suitable For Newborn To Toddler: V2 comes with a premium quality bassinet and a toddler seat; therefore, it grows with your baby. The bassinet is cozy, and it's safe for your baby's overnight sleep. As your baby grows, the toddler seat will be her transport too.
All-Terrain Capacity: The UPPAbaby Vista V2 is super smooth on plain and rougher terrains, all credit goes to its PU material wheels and upgraded suspension that won't let your baby nor you feel any jolts while on a ride.
Easily Adjustable Handlebar: The telescopic handlebar is easily adjustable with no hassle at all. However, in the height range of parents, you don't have to think twice. It extends up to 100-108cm with premium leatherette wrapping. You will enjoy the comfortable grip and pushing it.
Trendy Design: Designed for trendsetters who like to add trendy-looking gear, not just a baby pushchair, the super sleek Vista V2 is a go-to stroller for contemporary parents. You will option up to 9 fabulous colors to choose from- find the one that reflects YOU the best!
Things That Bother
Big In Size and Heavy: Since Vista V2 is a full-sized stroller and a convertible double stroller, it's big and a bit heavy.
Not a Compact Fold: While folded, it's big. Although you can store it in a standing position takes up very little space to store.
---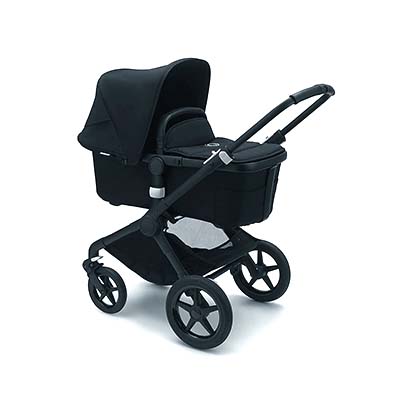 A luxurious full-sized stroller comes with all-terrain wheels and advanced suspension for seamless maneuvering across any surface. Comes with a comfortable cushiony seat for your baby. It's a car seat and bassinet-compatible stroller that fold effortlessly. A significant upgrade to Bugaboo Fox with ventilated peek-a-boo window and mesh panel UPF 50+ canopy, better color selection, improved recline trigger, and a rotating carry handle on the bassinet-a true testament of luxury in every detail!
Pros
Offers smooth ride
Newborn to toddler stroller
Travel system compatible
Easy to fold and store
Spacious storage basket
Supports a wide range of accessories.
Cons
Non-adjustable footrest
Not convertible to a double stroller
Why We Love It
Offers Smooth Ride: With all-terrain wheels and advanced suspension, this stroller offers a comfortable ride for your baby; you will also love it. You can take it to cityscape or in greeneries, and it will glide like ice-skating. Your baby won't feel a jolt while on the go.
Newborn to Toddler Stroller: The 2020 Bugaboo Fox is compatible with a bassinet. You can attach them with ease with the help of an adapter, so it is newborn-ready and great for toddlers up to 48.5 lbs.
Travel System Compatible: The frame supports car seats, its a full sized stroller that allows seat, bassinet or the car seat. Most popular car seats are compatible with Fox 2.
Easy To Fold and Store: Fold the Fox 2 easily with an intuitive button and can be stored in a self-standing position.
Spacious Storage basket: The storage basket is extra-large that can hold up to 22 lbs. Now you don't have to carry any extra baggage for daily needs.
Supports wide-range of accessories: It supports wide range of accessories including wheeled board, organizers, rain cover, footmuffs, parasols, snack trays, cup holders etc.
Things That Bother
Non-adjustable footrest: The footrest is fixed to a position, its not adjustable.
Not convertible to a double stroller: Fox 2 is a single full-sized stroller. The frame does not supports double seating arrangements. However, additional wheeled board can be attached to make room for your older baby too.
---
A Silver Cross royalty the Kensington Pram-a an exhibition of British craftsmanship. Vintage and classic, a handcrafted pram for the need of luxury and comfort come with a detachable body, fold-down chassis & foot brake. This spectacular pram is built of the finest materials and finishes, with a heritage that goes way back for 140 years. Each detail of this super-premium pram exhibits a hallmark of quality and elegance that will redefine you and your future generations all the way.
Pros
Royal design
Handcrafted
Comfortable ride
Durable
Cons
Not suitable for toddlers
Big in size
Why We Love It
Royal Design: Crafted by the finest, the re-engineered Silver Cross Kensington is an exhibition of authentic English artistry. This functional luxury pram is a complete showcase of versatility. The chassis, the handlebar, wheel, fabrics, each detail expresses elegance at its best.
Hand Crafted: The Kensington Pram by Silver Cross is hand-built by skilled craftmanship comes with an authenticity certificate. The craft is evident in hand-stitched fabrics, hand-painted detailing, the hood, and hand-stitched apron and everywhere, including chrome chassis.
Comfortable Ride: This elegant pram does not lack in comfort; it offers a peaceful and joyful ride for newborns. The deeply padded mattress, polyester-lined protective apron, 4-point spring suspension, chrome wheel, and the big tire combinedly ensure a comfortable ride that your baby will smile about the grandeur of this pram.
Durable: The overall build quality is also a structural wonder. Every detail of this luxury pram is durable, hand-finished over chrome-plated chassis and wheels to make it sturdier. This ultimate luxury lasts for generations.
Things That Bother
Not Suitable For Toddlers: This baby carriage is built for newborns and infants, not for carrying a toddler.
Big In Size: The size of this carriage is big, may not pass through narrow alleys and ways.
---
An ever-evolving best-in-class luxury travel system that is stylish, super-sleek leatherette, and compact design meet the need of trendy parents. This high-end 2-in-1 stroller carrycot inside, you can turn into a carrycot. Durable yet lightweight comes with a 5-point harness system for your baby's security.    
Pros
Uniquely stylish
Durable construction
Reversible seats
2-in-1 travel system
Easy to fold
Cons
Not suitable for grown-up toddlers
The storage is not spacious enough
Why We Love It
Uniquely Stylish: It is spectacular to behold with an egg-shaped design that attracts attention, super stylish that matches the need of ever-evolving trends. This extravagant stroller comes in five colors: black, champagne, aluminum, elegant rose gold, and graphite grey.
Durable Construction: This premium pushchair is insanely durable with sturdy leatherette polyurethane construction. The canopy, seat-pod, and basket covers are leather built that lasts long. The frame uses long-lasting graded aluminum, and the tire is foam-filled with extra-shock absorbing capacity.
Reversible Seats: Your baby can face you or the world to explore with the Mima Xari, and your baby will not be bored. The seat reclines in three different positions for your baby's comfort.
2-In-1 Travel System: This high-end stroller has a carrycot inside the seat; you can turn the seat into a carrycot for your convenience. You can hide the carrycot inside the zipped pocket placed intelligently behind the seat.
Easy To Fold: In just 30 seconds, with the use of one hand, you can fold the Mima Xari. It is super easy! With a single button press and lift of a lever, the compact Xari folds down to store in a place.
Things That Bother
Not Suitable For Grown-Up Toddlers: This premium stroller is not for grown-ups. It is neither fit for less than 6-month infants.
The Storage is Not Spacious Enough: Compared to its competitors, the storage is not spacious enough to carry baby amenities and your daily necessities. It may be insufficient for a lot of parents.
---
Swedish' premium and super sleek Thule pram match the city lifestyle, grows with your family as a double stroller, and is excellent for city outings, errands, walking for exercise, or travel. Amazingly comfortable for your babies with 15 different seating configurations, large seating area with three reclining positions. This luxurious stroller comes with an extendable and ventilated canopy, and supports a wide array of accessories- an urban enchanté for your baby!
Pros
Stylish and sturdy
15 seat positions with double capacity
Shock-proof wheels
Easy to assemble, easy to maneuver
It supports plenty of accessories
Cons
Bassinet or sibling seat to be bought separately
Large in size
Why We Love It
Stylish and Sturdy: Thule does not compromise on style; in appearance, it streamlines with the need of city life. Thule Sleek adapts to a modular design that allows it to remain simplistic and stylish. With a graded aluminum frame, foam-filled tire, premium fabric, it is durable for a few years too.
15-Seat Positions With Double Capacity: Sleek allows a variety of seating positions, endless customization for you and your baby with double seating capacity. It supports sibling seats, bassinet, or a car seat with the addition of an adapter. The seats can be adjusted easily to your baby's needs.
Shock-Proof Wheels: The 11 inch back and 8-inch front tires are foam-filled for better shock-absorbing. No-puncture 4-wheel suspension allows a smoother experience over rougher terrains.
Easy to Assemble, Easy to Maneuver: You won't feel hassle assembling a Thule Sleek; it's easy as you like with a few simple steps and very easy to move around with a height-adjustable handlebar. The grip is comfy with a leatherette handle, and it's easy to maneuver on different terrains.
Supports Plenty of Accessories: Thule Sleek has a modular design to remain sleek and at the same time supports an array of accessories like sibling seat, car seat, bassinet, cup holder, organizer, riding board, and so many that offers more freedom to you.
Things That Bother
Bassinet or Sibling Seat To Be Bought Separately: Thule Sleek only includes a seat for toddlers; no second seat or bassinet comes with the box; hence, you have to buy them separately.
Large In Size: Its overall build construction is a bit large. Even if folded, it is not compact like any other convertible double stroller.
---
The Cybex's luxurious stroller is bold and black with shiny gold details on the frame, wheels. Not only is the design impressive, but the overall build of this stroller is also smartly engineered, featuring leatherette details and crafted with premium tweed fabrics. As far as functionality is concerned, it's compatible with car seats or carrycot with a fully reclining seat option. A valid combination of style and functionality you can buy.  
Pros
3-in-1 travel system
Two-wheel mode for bumpy terrain
Smooth maneuvering
Reversible seat
One-hand recline and fold
Why We Love It
3-in-1 Travel System: Priam 3 is a complete 3-in-1 travel system that incorporates three modes: a carrycot or car seat and a luxurious reversible stroller.
Two-Wheel Mode for Bumpy Terrain: Now go with terrains at ease with Priam 3; its two-wheel mode allows you to maneuver through stairs and rougher terrains without having the burden of lifting the entire stroller. A fantastic feature that makes the Priam unstoppable.
Smooth Maneuvering: The Priam 3 boasts an upgraded all-wheel suspension system that is great for active parents. It allows you smoother maneuvering over surfaces, and your baby will share more smiles while on a ride!
Reversible Seat: The reversible seat configuration of this luxurious travel system is easy as you prefer. Now your baby can explore the world or facing you when needed.
One-Hand Recline and Fold: With minimal effort, this high-end pram folds into a compact self-standing position in no time with just one hand. You can recline it to a suitable position with one hand when needed.
Things That Bother
On the Expensive Side: Amazingly crafted to offer comfort and luxury, Cybex Priam 3 is undoubtedly on the expensive side.
---
The Silver Cross Wave 2021 is super luxurious, classy that will make your heart melt. Incredibly stylish with two-tone mélange fabrics and leatherette finish with four different colors and special eclipse edition. At the same time, it is a super functional, single to double travel system, so carry both your newborn and toddler simultaneously with the bassinet included. You can opt for up to 7-30 configurations and weight capacity up to 55 lbs.- a durable and future-proof for your growing family.  
Pros
Suits newborn to toddler
Convertible double stroller
Smooth maneuver over most terrains
Sturdy build
Stylish
Why We Love It
Suits Newborn to Toddler: A comfortable and luxurious bassinet comes with the box, which is approved for overnight sleep. Your baby will have an excellent ride and a broad smile while on the go. The seats and bassinet are reversible to suit the need of an infant.
Convertible Double Stroller: Attach the bassinet included in the box for an infant to make it a double stroller instantly. You can buy a toddler seat separately if needed. All-new upgraded Silver Cross Wave is also compatible with many car seats.
Smooth Maneuver Over Most Terrains: The Silver Cross wave 2021 offers excellent maneuverability with fantastic suspension. The front wheels are lockable to withstand rougher terrains like sandy or gravel terrain. But remember, this stroller is not suited to off-road gliding.
Sturdy Built: The stroller frame is built of premium grade magnesium alloy and can securely carry and hold two babies on the stroller seat and the tandem seat like a tandem stroller, combining up to 55 lbs. It is durable and will last for a few years at least.
Stylish: This upgraded Wave 2021 is incredibly luxurious and stylish, including the bassinet. This stroller is crafted aesthetically, smartly engineered to keep it lightweight. The fabrics are of premium quality. It comes in four colors: Charcoal, Zinc and Indigo, and the Eclipse Collection.
Things That Bother
Large Folded Size: Since it's a modular double stroller, the folded size is too long, even large than the bug-sized UPPAbaby Vista. Make sure it fits in the car trunk. The folded size is 37″ x 23.6″ x 15″ to give you an idea of whether it fits in.
Heavy: The Wave 2021 is massive in size; at the same time, it is heavy too. However, it weighs approx. 4 lbs. less than the previous version. It weighing heavy at 30.8lbs, 3.8lbs heavier than the UPPAbaby Vista V2.
---
Gorgeous and sleek all-new Hot Mom is a charming 3-in-1 Travel System, a true testament of style and grace, a trendy stroller that matches modern urban active lifestyle. A highly functional, intuitive, and user-friendly stroller comes with an egg-shaped seat and a bassinet.
The Hot Mom stroller is hot because it's gorgeous and highly demanded. You can move this 360 Stroller seat, which is highly portable, stable, and safe to maneuver. If you like, feel free to add a car seat—a fully functional, stylish, and luxurious stroller to carry your loved little ones.
Pros
Uniquely stylish
360-degree rotatable frame
Newborn-ready
Waterproof and easy to clean
Adjustable height and handles
Spacious storage
Cons
No compatible car seat included in the box
Complex assembling
What We Love It
Uniquely Stylish: The Hot Mom gets thumbs up in style and uniqueness; we like the minimalist shape and uniquely stylized egg-shaped seat turn heads. Every detail of this stroller is fashionable: the frame, the handlebar, the wheels, the storage; you will witness a combination of aesthetics and trend.
360-Degree rotatable frame: The Hot Mom are rotatable up to 360-degree, so that you don't need to detach seats or bassinet while reversing. Go out, have fun, do whatever, this baby stroller is flexible and lets your baby closer to you.
New-born ready: This stroller is newborn ready and suitable up to 48 months, and can be reclined in three positions. The seat can be reclined to near-flat position, you can add a bassinet or a car seat to carry your new one more conveniently.
Waterproof and Easy to Clean: Made of premium PU leather, the stroller looks luxurious and waterproof. You can clean the stroller easily with a piece of damp cloth, wet wipe
Height Adjustable Handlebar: The telescopic handlebar allows you to adjust the handle according to your height. The handlebar truly complements the 360 rotatable accessible reclining seats.
Spacious storage: There is enough space between the seat and the storage basket underneath, so the basket is easily accessible with a weight capacity of 35 lbs. So, you can carry groceries and essentials with you, without the hassle of carrying a separate bag.
Things That Bother
Heavy-Weight: Hot mom Weighs at a whopping 46.3 lbs.! It's one of the most heavy-weight strollers in the market.
Complex Assembling: Assembling the Hot mom takes a much effort, a rather complex one, but it is sturdy and stable while assembled.
---
The Cybex e-Priam is a future-era, high-end stroller with a battery-operated electric motor. An intuitive, simple push activation button allows easy maneuvering of the stroller uphill or downhill. The sensor in the handlebar is intuitive to prevent accidental let go. It's a lightweight stroller with one hand easy fold option, central folding mechanism. The smart Priam can be an excellent option for jogging or maneuvering on uneven surfaces such as grassy or hiking trails.
Pros
Smart, intuitive pushchair
One-handed fold
Off-road capacity
Reversible seats
Sleek and stylish
Cons
The motor takes 6 hours to charge
Why We Love It
Smart, Intuitive Pushchair: The "e" of e-Priam is for the motor attached to the lower rail for intuitive maneuvering over uneven terrains. The uphill push support and the downhill brake support work just fine. The Handlebar sensor is responsive enough to prevent accidents.
One-Handed Fold: The e-Priam collapses and folds into a compact shape that is easy to carry on the way with just a simple effort. The central folding mechanism is swift and easy.
Off-Road Capacity: The motorized function of this high-end stroller allows it to drive off-road. Although the stroller is for cityscape, its off-road capability is proven, and you can give it a try.
Newborn Ready: The seat is padded and reclines fully; this luxurious stroller is newborn-ready. It is also car seat and carrycot compatible so that you can carry your loved little one in this premium pushchair.
Sleek and Stylish: The Cybex e-Priam is sleek and stylish with a large and extended canopy, premium fabrics, minimalist design, and an easy folding mechanism.
Things That Bother
Long Charging Time: The charging time is long; it takes up to 6 hours to fully charge.
---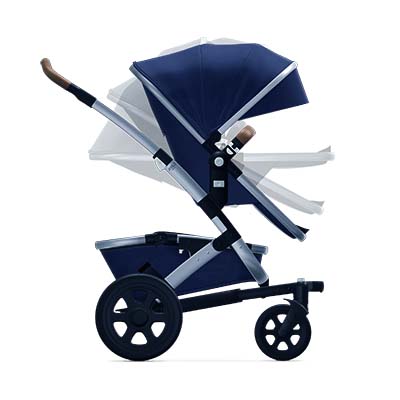 The Joolz Geo² combines luxury with freedom. This stroller offers the convenience to maneuver over rough terrains like forest paths, sandy beaches. The all-wheel suspension and large wheels make it an easy glider over any terrain. You will find the Joolz Geo2 is portable with super easy and effortlessly collapse and fold into a compact, convenient shape. If you are blessed enough with a second child, the Geo2 promises not to leave you with double strolling capacity- the best all-terrain stroller that you will make your life easier.
Pros
Sleek and Stylish
Most terrain capacity
Convertible double stroller
Removable storage basket
It comes with the essential add-ons
Cons
Not reversible
The footrest is not adjustable
No storage basket as a double stroller
Why We Love It
Sleek and Stylish: Geo2 Mono form Joolz is a dutch princely baby carriage that combines elegance with craftmanship in a premium buggy that lets a smooth ride. The super sleek buggy is too European that comes in three bold colors: Noir, Graphite, and Gris.
Most Terrain Capacity: The solid all 4-wheel suspension and big foam-filled wheels are there to let your baby feel a smooth ride on more uneven surfaces. It's not an off-road stroller, so don't attempt it over rougher terrains like sand or gravel. The enabling of a front-wheel lock will let you a smooth ride over grass or dirt paths.
Convertible Double Stroller: Add the bassinet in the box or second seat if you need it. It is a convertible double stroller that makes room for two babies. You may add a compatible car seat from Maxi-Cosi, Nuna, or Cybex, too- a complete stroller that makes life easier than ever.
Removable Storage Basket: This elegant stroller comes with a removable storage basket that is also spacious to contain your baby essentials and daily needs.
It Comes With the Essential Add-Ons: Everything from the bassinet, the bumper bar along with the frame, the main seat, the canopy, and the storage basket are included in the box, and we love it. If you buy the (product link-) Duo version, a second seat is also included! You may need to purchase certain smaller accessories like a footmuff, rain shield, etc.
Things That Bother
Not Reversible: This beautiful stroller is not modular, which means it is not reversible, can be used as forward-facing only. However, the bassinet and the car seat are parent-facing.
The Footrest is Not Adjustable: No way you can adjust the footrest, its fixed to a position.
No storage Basket as a Double Stroller: In double stroller mode, you have to trade off the storage basket to make room for a second seat.
---
Luxury Stroller Buyer Guide: How To Buy The Best?
Luxury strollers are premium, and its expensive too. Since you will be investing a lot, make sure you have invested in the best of them. Buying the best luxurious stroller does not mean you have to break your bank. It's all about getting hands-on with a premium stroller that is elegantly stylish with the premium build quality, getting smooth maneuverability, and impressive usability by paying the right price for it. The following section will guide you through what a high-end luxurious stroller should have; make sure your choice has it all.    
User-Friendly Design: Full-sized or travel systems, best luxurious strollers are surprisingly user friendly, these strollers are carefully crafted with ingenuity. Every aspect of these stroller are designed so that you and your baby gets a premium feel and experience while on a ride.
Elegant and Stylish: In comparison to standard strollers, high-end premium strollers are stylish, more like a fashion statement. Choose one that matches your lifestyle.
Comfortable and Easy Reclining Seats: Since it is a premium built, the seats of these strollers are more comfortable and come with an easy and full-reclining option that your baby feels coziness. An overall experience your baby will love.
Smooth Maneuverability: Most of these luxury strollers offer great wheel and suspension and front or both front and back wheel brake system so that your baby is secure while seated and have an unmatched smooth riding experience that standard strollers don't have.
Adjustable Harness System: In terms of security, the harness does an all-important job. It gives you peace of mind while on the move. Your baby's safety always comes first. Secure and high-end strollers usually come with a harness system that is unparalleled to standard strollers. An easy adjustable 5-point harness system is trendy.
Easy Foldability: Standard or luxurious strollers, always choose a stroller that can be folded and unfolded easily. If you are opting for double strollers, if you don't buy an easy foldable stroller, you ought to have difficulty on the road.
High-Quality Tire Material: Premium stroller's tires are shock-absorbing to offer you flawless maneuvering. You can tread effortlessly on terrains depends on their terrain capacity. Air-inflated or premium foam filled rubber tires have the super shock-absorbing ability so that your baby experiences a smooth ride.
Stylish and Durable Frame: The frame determines the strength and durability of the stroller. Best of luxurious strollers uses high-end graded materials that are insanely durable graded aluminum yet keeping the stroller light and portable.
Easy-Adjustable Handlebar: Compared to the average handlebars in standard strollers, premium strollers do use premium materials. Usually, you will find a one-touch adjustable handlebar that is ergonomic and user-friendly. The grip is often outstanding with leatherette non-slip material wrapping, so you can enjoy a better experience while maneuvering.
Accessible Storage Basket and Organizer: All your baby stuffs like milk bottles, diapers, blankets, and others that you cannot think of leaving behind, look up for the basket storage and how much is the weight capacity it can handle. Is it easily accessible? Many of luxurious strollers manufacturers thoughtfully include side pockets, an organizer for parents, a separate cup holder, etc.
Final Thoughts
These top-notch high-end strollers are the best you can buy today. We have included a comprehensive stroller buying guide that encompasses all the must-have features that constitute an awesome luxurious stroller. Hope this article is useful and assists you to choose the best one that fits you.
Related Posts

Best Lightweight Strollers With Trays - The Top 8
10 Best Lightweight Infant Strollers [2022]
Best Lightweight Double Strollers of 2022


Amazon Disclaimer:

I research, test, review, and recommend the best products. My content is intended for informational and educational purposes only. If you buy something through links, I may earn a commission at no extra cost to you.

Stroller Insider is a participant in the Amazon Services LLC Associates Program, an affiliate advertising program designed to provide a means for sites to earn advertising fees by advertising and linking to Amazon.com. As Amazon Associates, we earn from qualifying purchases.