A stroller sunshade is an essential accessory to protect kids from the sun if your existing stroller does not have a full-sized canopy. Typically, stroller sunshades are equipped with breathable and waterproof materials that keep your baby cool and comfortable on a stroller and shield against elements like weather or external perils like rain, wind, and insects.
Take Snoozeshade, a superior sunshade that offers excellent sun protection, is easy to wash, and fits a bassinet or a stroller. It is equipped with breathable mesh material, so your baby won't feel any discomfort if you walk for a long time. However, not all the stroller sunshades available in the market are equally beneficial. So, I extended my research to save you some time and narrowed it down to the 5 best stroller sunshade so you can pick the right one that fits your need.
List Of The Best stroller sunshades
1. SnoozeShade Stroller Sunshade (Best Overall)
Specifications:
Dimension: 9.84"L x 2.36"W x 6.3"H
Peek-a-boo Window: Yes
Mesh Fabrics: Yes
Machine Washable: Yes
Weight: 0.46Pound
SnoozeShade is one of the best stroller shades; it features a stylish design yet robust construction and protects a baby from the sun's harmful UV rays (SPF 50+). The sunshade offers full coverage, blocks 99% of sun rays, and keeps the baby cool and comfortable. In addition, you can conveniently attach this best universal stroller sunshade to a bassinet.
Snoozeshade has a convenient zippered peek-a-boo window at the front so you can keep an eye on your child without removing the shade. Regarding its protective features, Snoozeshade is made of breathable mesh material that ensures airflow so the baby doesn't feel suffocated. However, the fabric is waterproof, protects the baby from light rain, and is easy to wash functionality, making it convenient for both parent and baby. With all the features including high-quality material, ease of use and protection, Snooshade is best overall stroller sunshade on my list.
Pros
Fits strollers and bassinets
Breathable mesh fabric
Blocks 99% of the sun's rays – UPF50+
Easy to install
Lightweight and portable
Peekaboo window in the front
Machine washable
Cons
Not offer full coverage to toddlers
Buy this if you have an infant and want a stroller sunshade that you can use for both stroller and a bassinet.
Don't buy this if you prefer a deep hood and a full-coverage stroller sunshade for your grown-up toddler.
2. Manito Sunshade for Strollers and Car Seats (Most Durable)
Specifications:
Dimension: 10.39"L x 9.17"Wx 1.65"H
Peek-a-boo Window: No
Mesh Panel: Yes
Machine Washable: No
Weight: 10.6 ounces
Manito Sunshade is a full coverage stroller sun cover and is made of premium fabric. Its premium span material offers full protection (SPF 50+) from the sun's rays. Besides, the fabric is soft and stretchy, allowing parents to use it in strollers and car seats. When it comes to protection, this sunshade saves your baby from excessive airflow and harmful rays via its side mesh.
The build quality of the sunshade is premium, with a metal frame it's the most durable stroller sunshade on this list. Another remarkable feature of this stroller shade is that it is very easy to install and has a buckle strap to secure it during heavy wind. However, Manito Sunshade is not machine washable; you have to use cold water to clean this sunshade.
Pros
Protection from UPF 50+
Full body coverage
Easy to install
Adjustable in multiple angles
Soft and stretchy fabric
Side mesh for extra protection
Decent size to fit both strollers and car seats
Cons
Not machine washable
Only usable with a canopy
Buy this if you need a premium and durable stroller sunshade.
Don't buy this if washing by hand is a hassle. Instead, you can consider Snoozeshade Sunshade.
3. SnoozeShade Plus Deluxe (Best Full Coverage Sunshade)
Specifications:
Dimension: 8.66"L x 5.91"W x 1.97"H
Peek-a-boo Window: At the front
Mesh Fabrics: Yes
Machine Washable: Yes
Weight: 13.4 ounces
Snoozeshade Plus Deluxe is also lightweight and offers full coverage that ensures protection from the sun's harmful UV rays (SPF 40+) and other outdoor irritants such as wind, chill, and flying insects. Besides, this Plus Deluxe has a two-layer panel so that it can attach to any part of the frame. This sunshade uses stretchy fabrics and has soft mesh and chemical-free material.
One thing I like about this sunshade, throughout its front zip, you can check on the baby easily. Besides, this best stroller sunshade is machine washable and easy-to-fold and install. Additionally, this sunshade keeps the baby warm in cold weather, so you can use this stroller sunshade throughout the year.
Pros
Full coverage
Lightweight
Easy folding
Breathable and soft mesh material
The easily accessible zipped panel
Machine-washable and Chemical free
Easy to install
Cons
Does not fit double strollers
Buy this if you need a stroller sunshade that offers 360-degree protection from wind, chill, dust, and insects and is convenient for picnics or walking around the beaches.
Don't buy this if you have double strollers and want a 'universal fit' stroller that fits all. Rather you can check out Bayan Stroller Sunshade.
4. Bayan Stroller Sunshade (Best Multi-functional Sunshade)
Specifications:
Dimension: 37.8" L x 33.46" W
Peek-a-boo Window: No
Mesh Fabrics: Yes
Machine Washable: No
Weight: 0.2pounds
Bayan Sunshade is a lightweight and multifunctional stroller sunshade that offers full coverage to protect your baby from the sun's harmful rays, harsh wind, mosquitos, dust, and flying irritants. It is designed with custom-knitted fabric in the middle part to block 95.76% UVA.
The premium nylon and span fabric also ensures proper airflow so the baby can breathe comfortably. What I like about this sunshade most is that Bayan doesn't use any heavy metal frame and, at the same time, doesn't compromise the baby's safety in mind.
This sunshade is a universal fit for most single strollers, car seats, and bassinets. Since it has a drawstring at the back so you can easily attach it to your baby stroller, you can remain carefree with its easy installation and folding process. It's not machine washable and requires hand washing.
Pros
Very Lightweight
Premium fabric
Universal fit to cribs, strollers, or bassinets
Easy to install
Easy to fold and store
Cons
Don't offer rain protection
Buy this if you want a multifunctional stroller sunshade that protects your baby, whether he is in the stroller, car seat, or in bassinet.
Don't buy this if you want a stroller sunshade usable for all seasons. Alternatively, I recommend the Snoozeshade stroller sunshade, which offers superb rain protection.
5. Intimom Sunshade for Strollers (Best Universal Fit Sunshade)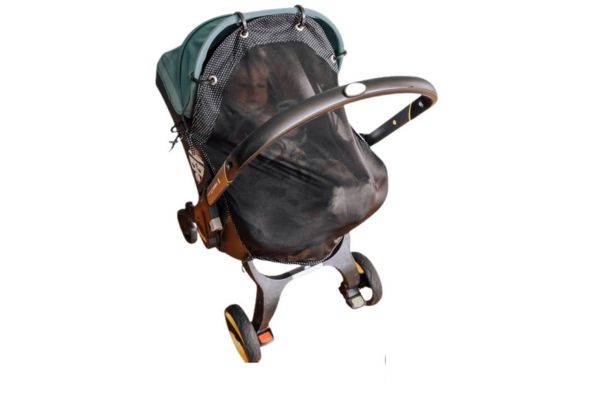 Specifications:
Dimension: 21.6"L x 24.8"W x 0.1"H
Back Peek-a-boo Window: No
Mesh Fabrics: Yes
Weight: 2.49 Ounces
The Intimom Sunshade is versatile, and innovative and offers adequate sun protection (SPF 30+). The sunshade is made of plastic material and mesh fabric and protects your baby in rainy weather. It offers adequate coverage from baby's head to toe and protects your baby from sun, wind, dust, and flying insects which makes it the best fit for toting around parks or long outings.
This versatile sunshade stands out with extra elasticity, so you can also use it as an extension to the canopy. It fits many stroller models and goes with many premium brands, including Baby Jogger, Joovy, Britax, UPPAbaby, and Doona, credit to its unique hook. Intimom Sunshade's plastic waterproof fabric is easy to wash. Besides, it is durable and easy to install, so you can conveniently use this stroller sun cover for several years.
Pros
Lightweight
It can be used as a canopy extender
Universal fit
Easy to install
See-through
Cons
Fabric quality is not so remarkable
Buy this if you need a canopy extender. This stroller sunshade can be used as an extension of your existing canopy.
Don't buy this if you desire premium-quality fabric. However, the Bayan stroller sunshade might be the right choice for you.
How To Choose The Best Sunshade: Buying Guide
Full Coverage
Many stroller sunshades can partially cover your baby's body, leaving your baby exposed to the sun's harmful rays. However, the best sunshades for strollers should offer full coverage so the baby can stay protected from direct sun rays.
What are the benefits of a full-coverage stroller sunshade?
Full-coverage sunshades cover a larger surface area of the stroller, protecting not only the child's face but also the neck, arms, and other exposed body parts up to the toe. It is particularly important for babies to avoid sunburns and skin damage.
Protective Fabrics
The best stroller sunshade should be designed with fabric that features protection from the sun's harmful rays. Consider purchasing a sunshade that offers SPF 50+ or UPF 50+, or equivalent protection.
What protective fabrics are used in a quality sunshade?
Polyester and nylon fabrics are popular choices for stroller sunshades since these types of fabrics are durable, water resistant, and offer maximum UV protection. Some stroller sunshades incorporate mesh fabrics, which provide both shade and ventilation, allowing air to circulate.
Universal Fit
There are two types of sunshades. Some are designed for specific models. Some are universally fit for strollers, car seats, and bassinet. It will be best to choose a universal stroller sunshade instead of a brand-specific one because it can be used with a wide range of products, which ensures maximum comfort and flexibility.
How does a Universal Sunshade benefit your need?
The universal fit sunshade can be handy when you have multiple strollers. The best universal stroller sunshades are also compatible with infant car seats and bassinet. On top of it, a universal fit sunshade can be more cost-effective in the long run, so you won't need to purchase a new sunshade every time you get a new stroller.
Ease of Use
Best stroller canopy extender are intended to provide maximum comfort and flexibility to babies and parents on the go. These sunshades should feature peek-a-boo windows; if the window is designed at the top, it seems more convenient for parents to look at the babies in the blink of an eye! In addition, stroller sunshades must have mesh panels or fabrics for adequate air pass so the babies don't get suffocated while riding.
Babies can be messy, so baby products like stroller sunshades require regular cleaning to ensure hygiene and longevity. Machine washable sunshades are preferable as they are easy to clean and maintain and time-saving.
Why are machine-washable stroller sunshades a better choice?
Machine washable sunshades are convenient because they can be easily cleaned with minimal effort and time. Instead of having to hand wash or spot clean the shade, which can be time-consuming, you can simply toss it into the washing machine along with your regular laundry.
Verdict
The Stroller sunshade is a handy accessory if your stroller lacks a full-coverage canopy. Like a full-sized canopy, a stroller shade offers equal protection from harmful UV rays. It helps to keep the baby cool and ensures proper airflow. I hope this review of the best stroller sunshades removes all your worries and helps you choose a perfect fit for your baby.
Related Posts: 

Best Stroller Organizer
Best Stroller Rain Cover
7 Best Stroller Blankets