Value for Money
Key Features
Super-compact fold
Lightweight
Durable
Easy to maneuver
Best Budget
Key Features
Lightweight
Accessible, spacious basket
Easy fold
Extended canopy
Writers Choice
Key Features
Easy and compact fold
Comfortable seat and calf support
Convertible Travel system
A Disney vacation is like a dream come true. Disney theme parks are vast and take miles of walking, undoubtedly for a baby to walk in a daylong tour is stressful. A lightweight, compact and convenient stroller like Summer 3D Infant Lite offers comfort and lets your baby have relaxed at the same time so much fun during a Disney adventure. A compact, easy-to-fold and navigable stroller can make the vacation full of fun. Not only for your baby, but it also has perks for you too, you may carry all the essentials like water bottles, jackets, etc. on the stroller storage bin or in the stroller seat.
However, you can not carry any stroller in a Disney theme park. Now Disney has rules on stroller size. Only these Disney rule-compliant strollers are allowed in Disney parks. This article includes a Disney stroller buying guide and a list of the best strollers for Disney world.
Disney world stroller policy & stroller dimensions
According to the rule of Walt Disney World or Disneyland, Stroller wagons or any giant strollers are not allowed anymore; only strollers within the size dimension: 31″ wide by 52″ long is permitted. Fortunately, most strollers available on the market comply with the size limit regulated by Disney. Disney authority recommends carrying a foldable stroller, although it's not mandatory.
If you opt for renting a stroller, note that rented strollers are not acceptable at Hotels of Disneyland Resort or parking lot trams or buses.
Whether you're searching for the best double stroller or single stroller, looking for a lightweight one or a stroller for your elder baby, I have added a list of best strollers that complies with Disney's size rule; scroll down to get them.
What Are the Options to Bring a Stroller to Disney World?
You may choose to rent a stroller from the park, but I strongly recommend carrying your own. If you decide to purchase one, it's more convenient for your baby to adjust to the stroller before you head to the park. Besides your preferred stroller for rent may depend on availability.
There are three options:
Carry your own
Rent from Disney
Renting from third-party companies
Carry Your Own
It is best to carry your stroller on a Disney adventure. Your baby would feel more comfortable on its own. If you already have a stroller that complies with Disney rules of stroller size, it's excellent for you. Unless buying a stroller before exploring Disney theme parks is the best option, I strongly recommend it. Below find a list of the best Disney strollers.
Rent a Stroller from Disney World
You can avail yourself of a stroller for rent at the Walt Disney World theme parks and Disney Springs. Costs for single and double strollers are as follows:
Single Stroller
Per day: $15 (Recommended for babies up to 50 lbs.)
Multi-Day: (Length of Stay): $13
Double Stroller
Per day: $31 (Recommended for babies up to 100 lbs.)
Multi-Day: (Length of Stay): $27
Note: Only at Disney Springs, a $100 USD credit card deposit is required.
Renting From Third-Party Companies
Disney strollers can also be rented from Disney-approved companies. Popular companies are Apple Strollers, Scooterbug, Kingdom Strollers, Magic Strollers. Florida-based ScooterBug rental strollers can be delivered to your Disney hotel rooms.
Scroll down for our pick of the 10 Disney strollers; these strollers are ready to push on Disney theme park tours.
List of Best Strollers For Disney World:
1. gb Pockit Ultra-Compact Lightweight Stroller
An ultra-compact fold and lightweight umbrella stroller from Gb Pockit. Innovative and practical in design and easy to store, and a great option for travel and exploring-your Disney trip can be more comfortable and convenient with this compact stroller.
Pros
Super-compact fold
Lightweight
Durable
Easy to maneuver
Adjustable harness system
Cons
Non-reclinable seat
Canopy is a gimmick
Why We Love it
Super-compact fold: The folding mechanism is innovative. In just two simple steps, the entire stroller collapses into a super-compact form, smaller than a small diaper bag. Your Disney trips can now be more comfortable and convenient.
Lightweight: The entire stroller is extremely light in weight (9.5 lbs. Only). You can carry it in your bag, so practically, there is less hassle while on the go. The feathery, lightweight stroller is the best choice for parents who prefers to travel with the kid.
Durable: Although the stroller is light in weight, the building materials are high quality and durable. Although it seems too light, yet the stroller is stable and durable to take on terrains like the best all-terrain stroller. You can move it around the city or consider taking it on a Disney adventure.
Easy to maneuver: Its front wheels are lockable for smooth maneuvering. The handlebars are there for an easy strolling experience and the rear-wheel has a parking brake to offer more control. This super lightweight umbrella stroller is a joy to maneuver.
Adjustable harness system: The harness is easily adjustable. There is a safety belt with protective pads that offer a cozy and secure fit to offer comfort to your baby.
Things That Bother
Non-reclinable seat: The seat is not reclinable. It may be discomforting for a few.
Canopy is a gimmick: The canopy is like a shelter; this is not a full-fledged canopy that protects your baby from the sun's harmful rays.
---
2. Kolcraft – Cloud Plus Lightweight Stroller
This Kolcraft stroller is lightweight and great for traveling and day trips in Disney Land or Disney World. It is super convenient with a compact fold and reclining seat. The stroller comes with an easy-accessible storage basket, extended canopy with peek-a-boo window, front suspension, and an easily adjustable 5-point safety harness.
Pros
Lightweight
Accessible, spacious basket
Easy fold
Extended canopy
Parent and child tray
Cons
Not a heavy-duty stroller
Why We Love it
Lightweight: It's a lightweight travel stroller that weighs only 11.8 lbs., just perfect for a Disney adventure. Great option for traveling in a Disney theme park. The feathery stroller is easy to move and push around.
Accessible, spacious basket: The extra-large, easy to access basket can contain all the necessities. While in a Disney theme park venture, you can keep all your essentials too.
Easy fold: The folding mechanism easy and can be done with one-hand in a self-standing position, that is a superb option for travel and vacations. When folded the dimension is: 18″ Width x 12″ depth x 34″ height. All-terrain wheels and front suspension are there for a smooth riding experience.
Extended canopy: The canopy is extendable, offering adequate UV protection. The canopy has a peek-a-boo window so that you can always monitor your baby.
Parent and child tray: Apart from a large storage basket, the stroller comes with child tray with cup holder and a parent tray with two bottle holders.
Things That Bother
Not a heavy-duty stroller: Comes on a budget, this stroller is not heavy-duty. Although it fits for a few days of Disney stroller.
---
3. Baby Jogger City Mini 2 Stroller: Best Toddler Strollers for Disney
Lightweight and compact, this Baby Jogger City Mini 2 is compact, super sleek, easy to maneuver, and ready for Disney adventure! It comes with adjustable calf support and a near flat reclining seat for your baby's comfort. City Mini 2 can be used from baby's birth. It's a convertible travel system that Supports car seats and a wide range of handy accessories.
Pros
Easy and compact fold
Comfortable seat and calf support
Convertible travel system
Supports a wide range of accessories
Cons
A bit heavy
Back storage blocked by a crossbar
Why We Love It
Easy and compact fold: This Baby Jogger Mini 2 stroller is easy to fold with one hand and folds compact. Just lift a strap; it folds up into a compact shape. It locks instantly as soon as it is folded.
Comfortable seat and calf support: The seat is nearly reclinable and offers a comfortable ride for your baby. It is compatible with babies from month one, so you can have all the adventures together. There is adjustable calf support for ultimate comfort for your baby.
Convertible travel system: Babby Jogger car seats are compatible with this stroller, a great advantage for you if you have an infant. A jogger stroller plus a travel system so you don't have to disturb your pre-toddler much while shifting between car and the stroller.
Supports a wide range of accessories: It is versatile, supports a host of handy accessories like a parent console, including a cup holder, car seats for smooth travel, a stroller board for your grown-up toddler. It's an overall package for Disney destinations.
Things That Bother
A bit heavy: It's a heavy stroller compared to the lightweight strollers available in the market with 18.8 lbs. weight.
Back storage blocked by a crossbar: The storage is there, but it is blocked by a crossbar making it less accessible for you.
---
4. 2018 UPPAbaby G-LITE Stroller  
The UPPAbaby G-LITE is lightweight and is highly portable with its convenient carry strap. The Mesh sling seat is breathable and easy to maneuver with a 4-wheel suspension. Comes with multi-panel UPF 50+ canopy, zipped recline, five-point harness, 10 lbs. capacity basket- a complete package for Disney park tour!
Pros
Comfortable seat
Quick and easy fold
Convenient carry strap
Easily accessible large basket
All-wheel suspension
Cons
Lack of back support for baby
Why We Love it
Comfortable seat: The mesh sling seat is breathable and comfortable for your baby. The zipped reclinable seat adds comfort. With an extended canopy and easy buckle 5-point harness system, the seat offers an easy and comfy ride.
Quick and easy fold: The G-Lite folds easily and quickly with much less effort. There are hand-level triggers to fold it easy as you like. If folded, the stroller is very compact and convenient to carry.
Convenient carry strap: It has a convenient carry strap for easy transit. If you are headed to a Disney theme park, you would appreciate the carry straps. When folded, it's easier to carry on the go.
Easily accessible large basket: The 10 lbs. capacity basket will be sufficient for most parents. The basket is easily accessible from both back and front.
All-wheel suspension: The all-wheel suspension offers easy gliding over park terrains, and at the same time, your baby will have a wonderful experience without any glitches.
Things That Bother
Lack of back support for baby: The seat is designed with no support for a baby to sit up. This hammock-like seat does not allow the baby to sit straight.
---
5. Zoe Twin+ (Zoe XL2) Stroller: Best Double Strollers for Disney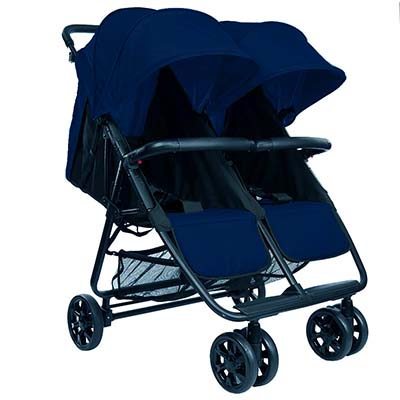 Lightweight, chic Zoe Twin+, with a four-panel canopy, lots of useful features, reclinable seat, the easy folding mechanism is an ideal compact stroller for your double trouble. It's a highly functional convertible tandem stroller that complies with Disney size rules and offers a joyride in a Disney theme park.
Pros
Lightweight and compact
Convertible double stroller
Easy compact fold
Extendable canopy
Cons
Not fit for three years or above
Why We Like it
Lightweight and compact: The stroller weighs only 19 lbs. It is pretty good for a double stroller. Measure, 29 inches wide, one of the most compact double strollers available on the market.
Convertible double stroller: It's a convertible double stroller; you can buy a sibling seat to make it double. So, you can use it as a single or double at your convenience.
Easy compact fold: The folding mechanism is pretty easy; just use one hand to pull it, and it is done. Easiest it might get. The stroller folds into a compact shape, whether in single or double mode.
Extendable canopy: The canopy is four panels large and extendable, offering full coverage to your baby. The canopy comes with UPF 50+ protection.
Things That Bother
Not fit for three years or above: This stroller is made for babies up to 3 years. The stroller cannot carry older babies.
---
6. Joovy Caboose Ultralight Stroller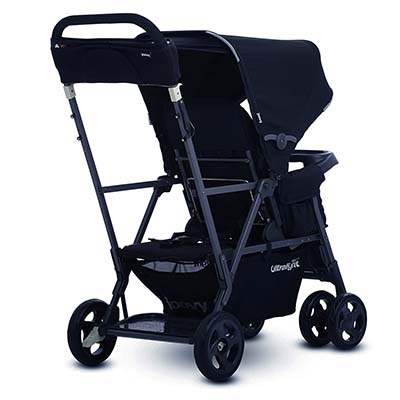 The Caboose Ultralight Graphite is a lightweight double stroller that offers the older child to stand on the rear stand-on platform. The stroller offers a smooth ride with 4-wheel suspension and is compatible with Caboose rear seat which is reclinable. Comes with a universal car seat adapter- a great option for Disney theme Park exploring with one toddler and an older baby!
Pros
Sit and stand stroller
Lightweight and compact
Convertible travel system
Rear canopy extension
Why We Love it
Sit and stand stroller: For your older child, Caboose Ultralight offers a sit and stand platform AKA bench seat. The maximum capacity of the seat is 22 pounds. Usually older toddlers are reluctant and often bored in a long stroller ride, in this stroller, they can change positions.
Lightweight and compact: The stroller is light in weight, considering a double stroller. It's 22 pounds. The size dimension is 25.6 x 23.6 x 46.5 (in inches), thus complies with Disney's size rules for a stroller.
Convertible travel system: This stroller comes with universal car seat adapters to convert the stroller into a travel system. Now it's easier and even more hassle-free to travel around and explore a Disney theme park with your two kids.
Rear canopy extension: The canopy of this stroller can be extended to the back to offer sun protection for the second seat or sibling seat.
Things That Bother
The storage bin is small: The maximum capacity storage bin is too small, only 5 lbs. Large diaper bags will not fit in the mesh storage bag.
---
7. Summer Infant 3Dlite Convenience Stroller: best umbrella stroller for disney  
Now make your Disney adventure more convenient with Infant 3D Lite, a compact, easy-to-fold frame and ultra-portable stroller with a large storage basket to carry your essentials, an ideal stroller for exploring Disney theme parks.   
Pros
Lightweight
Compact and easy fold
Reclinable seat
Easy maneuverable
Large storage basket
Cons
The cup holder is too small
Why We Love It
Lightweight: The entire stroller is too light in weight, only 13 pounds! Its highly portable and easy to carry with carrying straps, won't be a burden for your shoulder. An ideal candidate for park maneuvering.
Compact and easy fold: Dimension is within the Disney size rule. You will be amazed how compact the size of the stroller is while folded. The folding mechanism is user-friendly with auto-lock. It's super convenient.
Comfortable seat: The seat of Infant 3D lite is large; your toddler will have ample space while seated and enjoy four reclinable options for relaxing and exploring Disney parks. Anti-shock front wheels ensure a joyride for your baby. The extendable sun canopy is there to go through all-day Disney exploration.
Easy maneuverable: The anti-shock front wheels and lockable rear wheels allow easy maneuvering over park terrains. Easy to control and more comfort to you, this Summer Infant 3D Lite is a real joy to stroll around.
Large storage basket: The basket can take up to 10 pounds! Enough for the whole family for a perfect Disney Park outing. Now carry your water bottle, jackets, and stuffs along with the baby essentials.
Things That Bother
The cup holder is too small: The cupholder fits only standard water bottles. It can't hold larger sipping bottles.
---
8. Dream On Me Coast Stroller
Dream on Me Coast Rider Stroller is an incredibly lightweight, super-compact yet durable, and easy to maneuver stroller. Hook it to any standard stroller, shopping cart, or wheelchair with Velcro straps and transform it into a stroller rider. Now you never have to leave your baby unattended in a Disney theme park!
Pros
A stroller, rider, or scooter!
Compact size
Easy and compact fold
Ultra-lightweight
Easy to install, easy to use
Cons
Canopy and connector are not included in the box
No storage basket
Why We Love It
A stroller, rider, or scooter!: The Dream On me is a multifunctional stroller that can be converted into a rider by attaching it to a stroller or shopping cart with a connector. It is super convenient. In a more compact mode, the stroller can be turned into a scooter that your baby will enjoy the self-riding experience.
Compact size: In stroller mode, it's compact in size. That means it is easy to navigate around a Disney theme park. It's Disney-approved and meets the size specs for Disney parks.
Easy and compact fold: The folding mechanism is simple as you like; with a few steps, you can fold this amazing award-winning stroller (JPMA Innovation Award 2020, National Parenting Product Award 2022) into a very convenient and compact shape that is easy to carry. A real perk while on a busy park tour such as a Disney venture.
Ultra-lightweight: The stroller is light in weight with an array of functionality. Conveniently light only at 13.5 lbs. Considering its functionality and customization, it's one of the best carefully crafted convenient strollers that you might consider buying for your kids on a Disney adventure.
Easy to install, easy to use: The stroller was awarded in 2020 for a reason. It's easy to install with a few simple steps. The design is user-friendly; the seat is removable, and the handlebar is adjustable. You will love it pushing around parks. There are carry straps for transportation. The wheels take less effort to push around.
Things That Bother
Canopy is not included in the box: This stroller does not have a full-fledged canopy. Apart from that, the canopy can be attached to it is not included in the box! You can buy it separately, though.
No storage basket: Unfortunately, this stroller does not come with storage space as most stroller does. If storage is not a big deciding factor, well, you may buy this amazingly convenient stroller.
---
9. Baby Trend Expedition Jogger Stroller 
The Expedition Jogger stroller can be a great Disney expedition stroller for an older child with its larger bicycle tires, and lockable front swivel wheels, car seat compatibility, multi-position reclining seat with a 5-point harness system, footrest, rubber-made handlebar, and a stretchable canopy. This Disney-approved stroller also boasts a large spacious basket, parent, child tray cup holder, trigger-style folding mechanism.
Pros
Smooth ride
Easy fold
Travel system compatible
Includes parent and child tray
Large spacious basket
Why We Like It
Smooth ride: This Baby Trend stroller, The Expedition Jogger, offers a smooth ride with its easy-to-roll bicycle tires and lockable swiveling front wheel. This stroller suits Disney theme park maneuvering pretty good. Since it's a jogger stroller, a day-long Disney ride is comfortable and enjoyable, thanks to its comfortable and reclinable seats.
Easy fold: The stroller can be folded with a 'trigger style' easy folding system with auto-lock. You can unfold it with ease, too—a user-friendly folding mechanism for your convenience.
Travel system compatible: The stroller is compatible with car seats, so it's a convertible travel system for your convenience. You can take this to your favorite Disney destination without any hesitation. All the Baby Trend car seats can be attached to the frame of this stroller.
Includes parent and child tray: One of the best things is that this stroller comes with both parent and child trays. The parent tray has two cupholders.
Large spacious basket: The storage basket of this stroller is huge; you can put a large diaper bag in it. It's big enough for your jacket, water bottles, food while on a day-long ride.
ThingsThat Bother
Not a compact fold: The stroller does not fold into a compact shape as an umbrella stroller does. Still, the stroller will fit in the standard car trunk.
---
10. Joovy Zoom 360 Ultralight Jogging Stroller: Best big kid stroller for disney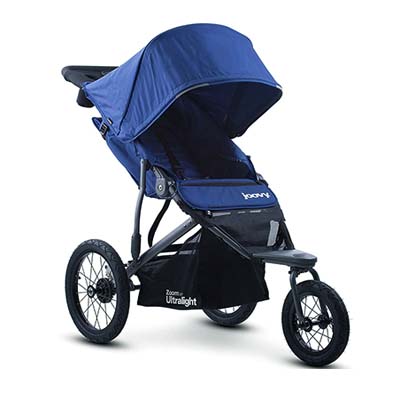 Zoom 360 Ultralight is a lightweight stroller that offers smooth maneuverability with rear-wheel suspension, lockable swiveling front wheel, pneumatic tires. It comes with a parent console and spacious storage basket underneath- A superb lightweight toddler carrier for a Disney adventure.
Pros
Smooth maneuverability
Spacious storage basket
Large canopy
Parent console
Cons
The handlebar is not adjustable
Why We Like it
Smooth maneuverability: This stroller offers a smooth ride; credit goes to its top-notch rear suspension and air-filled tires. You can push it with just one hand. It's so light and user-friendly. The front-wheel swivels and lockable for smooth ride.
Spacious storage basket: The Zoom 360 Ultralight storage basket is huge. For a Disney trip, you won't miss a thing. A medium bag of diapers easily fits in the storage bin; so keeping essentials are easier, including a blanket for the kid.
Large canopy: The canopy is really large in this Joovy stroller offering full coverage. It has a viewing window with a Velcro closure so that you can keep an eye on your baby.
Parent console: The parent organizer is handy. It has two cup holders and a small zippered pouch in it.
Things That Bother
The handlebar is not adjustable: The handlebar of Joovy Zoom 360 Ultralight is fixed. Its 41 inches high from the ground. The parents below 5.4″ or above 6.1″ in height may face difficulty pushing the bar.
---
How to Choose the Best Strollers for Disney World
Lightweight, compact, and easy to fold strollers are best for Disney adventures. Since Disney theme park tour means spending long days, the stroller must be comfortable and must comply with the size restrictions provided. Let's find out what to look for in a stroller for a Disney theme park tour:
Size and weight
Not only for complying with the Disney theme park size restriction, but an oversized stroller will make Disney tour difficult, cause they ought to be hard to navigate in crowded places. We suggest opting for a compact stroller with essential features (those that are necessary for you) is a better choice.
Like size, heavyweight is a burden for you too. Choose a lightweight stroller that may help your cause. Since strollers are expensive, you would prefer to purchase a stroller that lasts for years. Do not forget to check on the weight limit before buying.
Maneuverability
Disney World or Disney Land means flux of people at the park and a lot of blocking in the way. It will be difficult to maneuver for sure. What you can do is select a stroller that is compact and smoothly maneuverable. Usually, the strollers with lockable front swiveling wheels perform better in busy parks—lookup for the decent and easy accessible brake system too.
Easily foldable and portable
Best Disney strollers are easy to fold and carry. In a Disney tour, you ought to take in-house transportation, or there are some places you have to fold your stroller. So, keeping it in mind, choose a stroller that folds and unfolds easily with fewer steps and less effort. Lookup for carrying handles so that you can carry the stroller conveniently when required.
Storage basket
A large, spacious, and easily accessible storage basket is what you will be looking for in a Disney adventure. It's just amazing to have a storage basket where you are able to contain all the essentials for a tour. I remember the last time at the Disney Land, and I regret I had to leave off some great purchases; due to lack of storage basket, my hands were busy too! A generous storage bin is always a blessing.
An extended canopy
As we all know, how bright and hot the Florida sun is! A day-long ride can also be stressful with the heat on, especially for a baby. A stroller with a large, full-coverage canopy is definitely worth it. Your baby can take a nap if there is adequate sun coverage and offers a cozy environment the whole ride-time.
Reclining seats
Much younger kids usually experience dizzy afternoon, or some babies with a need of occasional nap may want to take short naps throughout the day. A reclining seat helps and facilitates coziness and allows one to fall asleep. So choosing a stroller with a reclining seat can offer more comfort to your baby.
Essential Tips for Strollers at Disney World:
We strongly recommend bringing your own. Rental strollers may be uncomfortable for your kids. Flying with a stroller may come with the hassle, but it's definitely worth it.
If you need to carry the baby all the time, choose a stroller that supports a car seat. Since strollers require to park outside of an attraction, most shows and some rides allow the car seat inside.
Usually, Disney stroller rentals are more appropriate for older children; if your toddler is younger, consider bringing your own.
Make sure you know your stroller well, like how to apply the brake, fold and unfold. If you choose to rent, take a few minutes to familiarize yourself with the stroller before you headed to the tour.  Disney rental strollers have a "license plate," don't forget to write your name or any identifier to find it among the flux.  
Always be prepared to fold your stroller while on tour. You have to take Disney buses and trams often.
Be prepared for the weather. Usually, Florida weather is infamous for sudden showers in summer afternoons. Consider bringing rain cover for the stroller.
Do not leave your valuables when you are leaving your stroller behind. Typically, there is no one assigned to look after your belongings and the stroller.
If you choose to rent stroller from Disney, make sure to keep the receipt and the tickets even if you are renting for a day only so that if somehow your stroller is lost, you can replace it at no charge.
If you leave the stroller in an unassigned area, these are typically moved to the designated stroller parking zone. Don't panic if you can't find your stroller where you left it. If you don't know where to park, ask the casting assistant.
Bring some wipes. It may come in handy in case something spills on the stroller.
Bottom Line
A stroller for a Disney theme park is handy for you to carry your baby. At the same time, it has some perks for you too. I hope you find the best stroller for Disney from the list, or the information on Disney stroller rentals and tips helped you. Thanks for reading the article.
Related Posts
10 Best Lightweight Travel Strollers That You Can Buy In 2022
8 Best Stroller Wagon for Beach in 2022
7 Best Lightweight Umbrella Strollers of 2022

Amazon Disclaimer:

I research, test, review, and recommend the best products. My content is intended for informational and educational purposes only. If you buy something through links, I may earn a commission at no extra cost to you.

Stroller Insider is a participant in the Amazon Services LLC Associates Program, an affiliate advertising program designed to provide a means for sites to earn advertising fees by advertising and linking to Amazon.com. As Amazon Associates, we earn from qualifying purchases.