Summer means all the fun and outings, beach, sunbath, and whatnot!! Now, if you are wondering, the beach sun might be too hot for the baby. What are the hacks? How to keep baby cool at the beach? To help your cause, here I present a beach checklist and essential tips on how to keep baby cool at the beach all day long!
Most of the tips I have applied for my babies worked for me. In this post, sharing with you my go-to tips so that you are prepared before a day-long beach outing and have all the fun the summer has to offer!
What do you need for your baby at the beach to keep them cool: Here is the checklist
While planning for a beach trip, make sure to 'tick' the beach checklist I am adding below. Even if it's just a day, the beach trip will be full of sand and sun. Having a checklist is handy because it will help you remember all the essentials that you need for the beach, especially to keep your baby.
Light Clothes
Stroller Fan
Stroller
Kiddie Pool
Baby hat
Baby Sunglasses
Baby Approved Sunscreen
Baby Tent
Ample Water
Liquid Food
How To Keep Baby Cool at The Beach
Light Clothes
While planning for a beach outing in hot and humid weather, wear your baby light dress appropriate for the beach and summer. Opt for single layers or thin breathable clothes like a onesie or loose top and bottom. The market is flooded with a lot of light clothes, and many of them come with SPF protection for delicate skin.
Use Stroller fan
A portable mini-handheld stroller fan can help you keep your baby cool at the beach. Stroller fans with tripod grips allow you to keep your baby cool anywhere you want, on the stroller or even in the tent. Look for a USB rechargeable stroller, so you don't have to pack extra batteries on your family trip.
Use Stroller While Walking
The best wagon for the beach can be a lifesaver during beach trips. With an infant, you can easily take a car seat-compatible stroller and go to the beach. However, not all strollers are perfect for the beach, so opt for the best jogging stroller or all-terrain stroller. These strollers come with large wheels and good suspensions, which makes them the perfect stroller for taking babies on the beaches. Moreover, your baby can comfortably have a nap while you are walking.
When your child ages a bit, you can go for a beach wagon. Choosing collapsible beach wagons is better as those don't take up much space in the car trunk, and you can easily transport the wagon.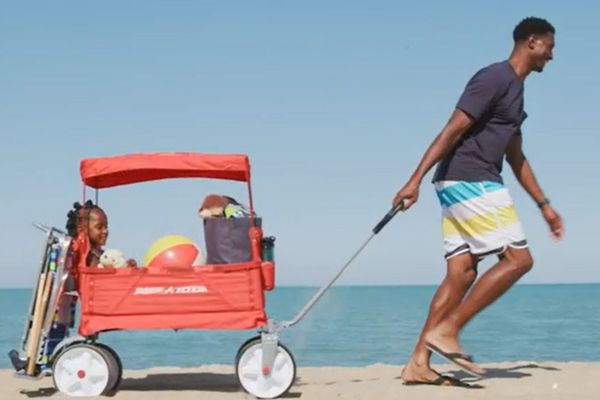 Kiddie pool
Kiddie pools are one of the best ways to keep babies safe and, if thinking about how to keep baby cool at the beach. So, pack a small inflatable pool and a beach umbrella. If the pool doesn't include shade, then carry an extra beach umbrella. This mini pool is suitable for new crawlers and for babies who put everything, including sand and rock, in their mouths. If you don't have a kiddie pool, you can easily DIY one by digging a shallow hole on the beach, putting in a shower curtain liner, and filling it with an inch of water.
Use baby hat
Babies' skins are prone to sun damage and UV rays, so it's very important to keep the baby protected from hitting the direct sun. One of the best ways of doing so is by making the baby wear hat. According to the American Academy of Pediatrics, a baby's hat should at least have a 3-inch brim that would shield the face, ears, and even the back of the neck. The hat can be secured by attaching it to the babies with either velcro or string. While buying hats, look for hats with UPF+ for extra sun protection.
Baby Sunglasses
Sunglasses are very important for babies as the eyes of babies are still tender and more sensitive to Uv ray damage. So, while picking sunglasses, it's necessary to pick sunglass that gives at least 99% UV protection. On the beach, sunglass protects the babies' eyes from the sun along with dirt and sand. Make sure to you a sunglass that tightly wraps around the baby's face.
Use a baby-approved sunscreen.
While packing for the beach essentials of a holiday, sunscreen is one of the first things that hit our minds. But can the baby use sunscreen? If they can, then which age is perfect for babies to use sunscreen? And what kind of sunscreen should be used on babies? Let's figure it out.
Generally, for babies under 0-6 months, it's not recommended to use sunscreen on the baby. But why isn't it recommended to use on an infant? According to FDA, even though the market is flooded with baby sunscreens but an infant's skin possesses high threats from the side effects of sunscreen, which increases the higher possibility of effects like a rash.
Sunscreen for Babies above 6 months old
There are many baby-safe sunscreens on the market. Now, when the baby turns 6 months old, they can typically wear these baby-approved sunscreens safely. While applying sunscreen to the baby, make sure that the sunscreen is at least SPF 30 or above. Then liberally apply the sunscreen every two hours. You might need to apply more frequently if the baby is playing in water or sweating.
Baby Tent
The best time to take the baby to the beach is in the early morning or late afternoon. It's recommended that a baby should not be exposed to direct sunlight between 10 am to 4 pm. If you are about to enjoy a day-long outing, try keeping the baby in the tent by organizing some fun activities with babies.
Keep the baby hydrated.
Dehydration is a more common factor among babies than adults. As babies do not sweat like us, it becomes hard for parents to trace if the baby is dehydrated. Experts suggest that for babies below 6 months old, feeding breast milk alone and for babies older than 6 months, water at regular intervals will keep them hydrated.
To make sure your baby doesn't dehydrate, look out for the common signs of dehydration, like crying without tears, a parched mouth, and anomalies in urine amount or frequency.
Spray away the heat
Sometimes shade isn't enough to keep babies cool. Bring a small spray bottle filled with ice water to spray on your child at regular intervals, especially when those cheeks are flushed.
How to keep baby cool at the beach: Final Words
Babies are very vulnerable to heat and sun. Taking babies to the beach may seem like directly exposing them to the sun. Many parents skip beach outings because they do not know how to keep the baby cool at the beach. But it's not rocket science. With a few tips, you can make sure that your baby can remain cool and enjoy a beach holiday just like other kiddos.
FAQ
When can I take my baby to the beach?  
There is no hard and fast rule of when to take a baby to the beach, but it's said to take babies after they are at least 2 months old. This time allows a baby's immune system to grow; moreover, below 2 months old, babies' skin is more prone to UV rays.   
Can I take my 3-month-old to the beach?   
Yes, you can obviously take your 3 months old to the beach but make sure you are well prepared and know how to keep your baby cool. For more details, you can go through the article on how to keep baby cool at the beach.
Related Posts 
How To Protect Baby From Sun In Stroller
How To Grocery Shop With A Baby
Do I need A Stroller For The Newborn?