Although bassinets and car seats are both compatible with strollers, they are made to serve different purposes. Whereas a stroller bassinet is more comfortable for infants when they are sleeping, on the other hand, you need a car seat to keep the baby secured while traveling. However, parents sometimes seem confused between stroller bassinet vs car seat, which is best for them. That's why I'm sharing my experience that may help to choose the right gear for your baby.
When Jason was born, I bought UPPABaby Vista V2, which has a lot of perks, including the bassinet out of the box! He seemed very comfortable when being carried on the bassinet. However, things got changed, and I had to travel frequently from one place to another. I was in need of a car seat to carry Jason (3 months); after examining several models, I chose the safe and comfortable Doona Infant Car Seat.  
Now, let's find out the difference between stroller bassinet vs car seat so you can choose which one you should pick.
Stroller Bassinet vs Car Seat
What is Stroller Bassinet
The stroller bassinet is a baby carrier with a bed-like design where an infant can sleep in a flat position. Bassinets featuring sunshades, mesh covers, and comfortable fabrics like cotton fabrics nest the baby with warmth. Having said that, parents can happily use a bassinet for a newborn up to 6 months to keep them in comfort.
What is Car Seat
Car seat is an essential baby gear and safety kit for a newborn to carry in a car, especially while traveling. This baby gear can hold up to 35 lbs, keeping the baby safe with harnesses and safety straps. This curved designed baby carrier can be attached to a car as well as a stroller (if compatible) in order to keep the baby safe and secure.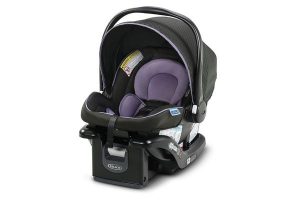 Stroller Bassinet vs Car Seat: What are the Key Differences?
Safety
Car seats and bassinets are both safe for babies. For example, a car seat and a bassinet can be commonly used in a compatible stroller or using an adapter.
Apart from that, a bassinet is box-shaped and features protective sidebars and frames that are safe to hold the infant while sleeping or lying inside. Unlike a car seat, a baby can sleep inside a bassinet in a flat position which is good for the baby's spinal development too. So, you can safely use a stroller bassinet at your home, your relative's home, or even in the hospital.
On the other hand, using a car seat is mandatory for the safety of your baby when traveling in a car. The car seat features a safety harness, shock-absorbing and padded seat that provides security to the little rider while in a car.
Note: There is a 2-hour car seat rule that says a baby should not be in a car seat for more than two hours. Staying in a curved position for a prolonged time can be hazardous for the baby, even causing strangulation.
Durability
Durability depends on the manufacturer, which determines whether it would be a plastic frame or a metal frame. In general, metal frames are more durable than the plastic frame.
As most stroller bassinets are designed for babies up to six months younger (up to 15 lbs), they can hold a limited weight compared to a car seat. Hence, a bassinet frame could be made of sturdy plastic to last for a long time.
On the other hand, most car seats can hold up to 35 lbs and support a baby (newborn up to two years). That's why car seat frames are built with more durability so that it can be used as the baby grows day by day.
Ease of Usages
A bassinet is easier to use since it does not come with any harness nor requires installation with any base; just adjust it with the stroller or its stand and lay down the baby in a completely flat position. Besides, it features a convenient handlebar, which is helpful in carrying the baby more easily.
In comparison, car seats have more features than stroller bassinets, and you must carefully comply with those features while using an infant car seat in your car. The baby must wear the harness, and the car seat must be installed in a rear-facing position; you can install the car seat with/without the base.
Age Limits
As the baby's movement increases gradually and starts crawling, the stroller bassinet is no longer safe for your baby—the ideal time for using a stroller bassinet is between 4 to six months.
In comparison, a car seat can be used for newborns up to 2 years.
Prize
You will find affordable, mid-range, as well as high-priced stroller bassinet and car seats available on the market; a good combo like UPPAbaby Vista V2 Stroller also, on your side that comes with a car seat and a bassinet.
Is It Ok To Walk Baby In Car Seat?
Yes, it is okay. But it's recommended not to walk for hours. Although car seats are meant to keep the baby safe while in a motor vehicle, it doesn't mean you can leave the baby in a car seat for long hours.
If your baby is in a semi-upright position for a long time, it can affect your baby in the following way:
Spinal deformation since the baby's spine is vulnerable
Inadequate airflow to the baby's lungs creates suffocation or strangulation  
See Also: How Many Car Seats Do I Need
Precautions: Car seats are recommended for babies while traveling in a vehicle. Take frequent breaks, and unlatch the baby from the car seat if the journey is long. It's recommended to follow the two-hour car seat rule.
Is It Safe For Baby To Sleep In Car Seat In Stroller?
Yes, it is safe for a baby to sleep in the car seat in a stroller but not for a prolonged period of time. Experts recommend not keeping the baby (less than six months) in a car seat for more than two hours; it might affect the baby's vulnerable spinal growth. That's why parents should maintain the safety rules while carrying the baby in a car seat. Once all the safety measures are ensured, your baby can safely sleep in a car seat attached to the stroller.
Is A Car Seat Or Bassinet Better For Newborn?
A car seat and bassinet are both convenient to use for a newborn baby. A car seat is designed with more safety options, whereas a bassinet is intended to provide more comfort and better nap time for your baby.
So, if you're traveling in a vehicle, you must have a car seat for your baby. Car seats can also be attached to strollers, so you can also stroll your baby using a compatible car seat (not more than two hours). On the flip side, the bassinet offers a more comfortable sleeping zone for newborn babies (up to six months), whether you're at home or using a stroller to carry out the baby. However, a bassinet does not provide security while traveling in a car as it can be installed in the car.
Can I Use Bassinet In The Car?
A BIG NO!
You cannot use a bassinet in the car. Although the bassinet features more convenience, it's not as safe as a car seat. Bassinet doesn't have any harness, and you cannot fix it inside the car using the seat belt.
Alternatively, a car seat is built so that your baby can safely travel along with you. In many places, car seat laws are strictly followed to ensure baby's safety which is hardly possible to meet if you use a bassinet.
Wrapping Up
There is similar and distinctive usage between the stroller bassinet vs car seat. However, both will be convenient for you and your baby based on the situation. Whether using a stroller bassinet or a car seat, never leave the baby unattended, and always remain watchful while sleeping in a bassinet or traveling in a car seat. Hope this post will bring you relief in choosing one or both between the stroller bassinet vs car seat.
Related  Posts:
Umbrella Stroller vs Regular Stroller
Stroller vs Baby Carrier
Double Stroller vs Wagon