Not all luxurious wagons are lightweight and fold compactly. Most of the best stroller wagons in market are weighty and bulky when fold, could be difficult to manage while traveling. What if you find a wagon that is compact and lightweight just like a stroller and can carry two babies? A lightweight premium wagon like Veer can make your family adventure more enjoyable. In this post, I'll go in-depth into Veer wagon and explore its ins and out.
Meet Veer Cruiser! They call it, 'every branch of your family tree'.
This luxurious wagon stroller is super easy to fold and compatible with one car seat adapter; so it'll take a few moments to transform your Veer Cruiser into a travel system. The wagon has an premium sitting compartment, including a built-in footwell for two toddlers. Apart from the base features, the wagon is compatible with lucrative accessories (sold separately); so, you can customize Veer Cruiser based on your needs.
If you're looking for the best lightweight wagon stroller and crave quality, this stroller wagon will meet your demands. Let's begin with the Veer Wagon review and scrutinize every part of this wagon to show you whether is this "cargo rider" worth your consideration.
Veer Wagon Key Features
| | |
| --- | --- |
| Features | Veer wagon |
| Weight | 32.5 lbs |
| Weight capacity | 110 lbs |
| Age Limit | 6 months (minimum) |
| Safety Features | 3-point harness |
| Car seat compatibility | Yes |
| Handle Bar | Adjustable |
| Canopy | No |
Veer Wagon Key Features In Detail
Seat
Veer Cruiser's seats are ventilated and features a nice footwell for two little riders. The lower sides of the wagon are pretty good for kids' sight and lift them up easily. Although the seats are not reclinable, your toddlers can ride or rest in their comfortable position, and eat their snacks inside the spacious chair-like compartment. Including the footwell's depth, the inside space dimension is 30″ x 16″ x 13.5″ which is wider than the models of the Evenflo and Baby Trend.
The wagon can carry an infant with attaching a car seat adapter. Veer Cruiser does not come with a car seat or car seat adapter, you have to purchase them separately.
As far as safety is concerned, Veer Cruiser Wagon features 3-point harness belts on both sides, which is pretty good for your toddlers who can sit by their own.
Features and Usability
You would pause at this point of Veer wagon review because the Cruiser doesn't include any canopy, storage bin, and car seat adopter with its base model. You have to pay for these add-ons separately. However, the wagon features an adjustable ergonomic handlebar, a snack tray and cup holders for kids.
This all-terrain wagon is super easy to maneuver on any surface. Its huge storage basket (sold separately) capacity is highly impressive; the wagon won't bother you while folding (folds within a few seconds!)
Wheel, Suspension and Brake
Right off the bat using this wagon, I thought it would be difficult to glide on rough terrains.
But it proved me wrong!
Its polyurethane-made tires are significantly adaptable for all-terrain, including rough ones as well. If you pull the wagon and lift the front swivel wheels a bit on a bumpy surface, then hauling around will be easier.
Airless tires and front wheel suspension of Veer Wagon are engineered for easy maneuverability, giving the toddlers smooth rides across any terrain from ball fields to snowy trail.
A one-step brake underneath the handlebar keeps the wagon stand in a place. It's easy to access, at the same time, the brake won't bother you while activating it or turning it off. So, yeah! It works with precision.
Age & Weight Limits
Veer Cruiser can be used for newborn babies up to 5 to 6 years old toddlers. So, if your kids are passing their late toddlerhood years, or they are little pre-schoolers, this wagon is good to go. Veer Wagon is designed to carry two babies up to 110 lbs. So, you can carry either one infant and one toddler or two toddlers.
Frame and Handlebar
The frame and handlebar on Veer Cruiser is robust and highly durable. Its rugged frame is welded aluminum built, and lasts for yea and its ergonomic and push and pull handlebar offers you ultimate convenience while on-the-go.
Foldability
Usually, wagons are bulky when folded. In contrast, Veer Cruiser folds very compactly and almost flat in position to fit in the car trunk.
Veer Wagon takes just 20 seconds to plop it into its most compact shape. In addition, you can remove its wheels if you're like me who loves flat folding!
Cleaning
Kids are pros at messing around! If your wilds make Veer Wagon messy, no worries!
The wagon interior, its plastic seats, and stretched fabrics across the aluminum frame are easy to clean and wipe as soon as your toddlers done with their job.
How to Fold Veer Wagon
Folding Veer Cruiser Wagon is extremely easy. Just follow the step-by-step process:
Step 1: First, remove the snack tray
Step 2: Then, push the buttons located at the front and end frames.
Step 3: After that, fold the four parts from up-front and sides.
Step 4: Next, squeeze the button on the handlebar and let it collapse over the wagon.
Step 5: At last, remove the wheels for the more compact and flat fold.
How to Clean Veer Wagon
The Veer wagon is easy to clean and wash. The fabric is washable. Here are the steps to clean the wagon:
Step 1: At first, remove the snack tray
Step 2: Use a water-hose to pour water on the wagon
Step: 3 Dry it
Note:
Do not dry it under the direct sunlight
It's strongly recommended not to use bleach, iron, abrasives,, or dry cleaning.

Veer Wagon Accessories
Veer Cruiser is compatible with a lot of handy accessories; they are sold separately. Let's take a look at them one by one.
Canopy
Veer Cruiser has multiple popular packages that include one or two canopies along with other accessories. The toddler package includes one canopy, and warm weather kits include two canopies. The canopy is retractable, easy to fold up or down, and also has a peek-a-window.
If you purchase it from Amazon, it'll come up with one-year warranty.
Car seat Adapter
Veer wagon is a car seat and switchback seat compatible. The car seat adapters easily adjust in the frame both in front and rear of the wagon. Veer car seat adapters are compatible with the following infant car seats:
Uppababy
Peg Perego
Cybec/Maxi-Cosi/Nuna
Britax
Chicco
Graco
Seat for toddler
If you already have had Veer Cruiser for a long time, you may need another seat for your toddler's comfort. This comfort seat has a 5-point harness belt which I think is slightly better than the seat that comes with the box that has a 3-point harness belt.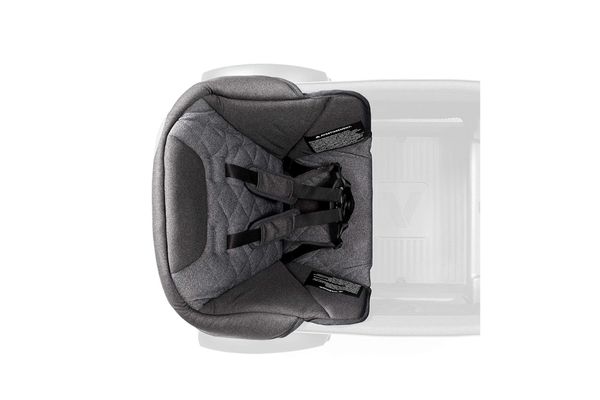 Veer Cruiser Napper
Veer Cruiser can be transformed into a comfortable bassinet. This 'cargo rider' has jaw-dropping nap system which includes sun shed/bug shed, storage bag, compatible with canopy, removable mattress pad, washable cover.
Cup Holder
The wagon is equipped with a snack tray that features two cup holders for the littler riders. But Veer Cruiser has also to offer you a pair of additional cup holders that can be attached in multiple spots across the wagon.
Travel Bag
Travel bag will make your journey more convenient. This travel bag features 9 handles for easy usage. You can lift it or pull it as the real wheels remain open below the bag. I find Cruiser's travel bag really impressive!
Foldable Storage Basket
Don't forget this must have accessory! You'll need this foldable spacious storage basket to carry out all the necessary tools for the kids when you're heading for any outdoor trips.
Veer Cruiser's foldable storage basket is well fabricated and widely spacious to store gear, groceries, cooler, and other additional things. What I like most about this foldable basket's fabric is, you can clean it throughout your washing machine.
All Weather Cover
Weather cover is necessary to protect kids from excessive heat or cold. Veer Cruiser offers an all-weather cover that also provides coverage for rear storage basket. The cover comes with a lightweight storage pouch for storage.
What I like about Veer Cruiser
Unlike many premium wagons, Veer Cruiser has several magnetic perks; folding flat and very compactly is one of those sparks that makes it convenient to carry wherever you go.
What I Don't Like about Veer Cruiser
Cruiser comes up less accessories with the base model. You have to purchase canopy, storage basket, nap system, and other available accessories individually.
Veer Wagon Alternatives
There are several alternatives to Veer Wagon that are equipped with more necessary accessories. They are affordable too!
Keenz 7S 
Parents also like Keenz 7S as it offers more convenient features so, you won't spend more on purchasing accessories separately.
I recommend this wagon if you have no newborn baby because Keenz doesn't feature for infants. Keenz 7S is designed for toddlers from 6 months up to 6 years. Its recommended weight limit is 110 lbs. Its versatile safety feature includes 5-point harness belts with three adjustable heights. In addition, it's easy to maneuver, and a one-step brake and an adjustable handlebar go with parents of different heights.
What I like about Keenz:
Keenz 7S comes up with more necessary accessories which need to purchase separately for Veer Cruiser. Inside the box of 7S, you'll get 7S canopy with cover, 7S cover for the wagon, cooler bag, cup-holder, and built-in mesh sunscreen. On top of it, it costs nearly $120 less than Veer Wagon.
What I don't like about Keenz:
The wagon is not car seat compatible. So, if you have an infant or you're planning to have a baby, Keenz wouldn't be suitable for you.
Again! This wagon is also not for infant. Wonderfold W1 is a toddler wagon that can carry up to two kiddos. It's affordable within $300; costs almost half of the Veer Cruiser.
The wagon features UV-protected removable canopy, 5-point safety harness belts with pads, adjustable push handle. Its durable built, 4-wheel spring suspension, all-terrain tires, and a lot of storage capacity, all are good to go for regular usage like going for groceries, or taking it on your day-long outdoor trip as well.
What I like about Wonderfold W1:
I'm overwhelmed by its weight capacity. Usually, two seat wagons are designed to hold up to 110 pounds. But Wonderfold can hold up to 180 pounds! On top if, it's very easy to fold and unfold the wagon.
What I don't like about Wonderfold W1:
You cannot use this wagon for your newborn baby.
Evenflo Pivot Xplore is car seat compatible and its weight capacity is 120 lbs. So, if you have one newborn and a toddler, you can pivot them on Xplore across the area wherever you go.
In terms of price, its more affordable than Veer Cruiser; its rugged and all-terrain tiers and adjustable handles are easy to move smoothly across every surface.
It comes up with 3point harness belt, two reversible and UPF 50+ sun-protective canopies that will keep your kiddos safe from extreme weather heat. In addition, a snack and drink tray is also included inside Evenflo Pivot Xplore's box.
What I like about Evenflo Pivot Xplore:
Xplore is less costly (more than $300 less) than Veer but features more equipment, especially it comes up with car seat compatibility, and a little bit more weight capacity. When you're a parent of one newborn and a toddler, you can happily purchase Xplore.
What I don't like about Evenflo Pivot Xplore:
It doesn't fold compactly; so you may find it difficult while storing it. One more thing I would like to mention about Xplore is its limited storage compartment is shorter than Veer. It might be ok with the shorter storage if there is nothing much to carry; for me, the storage space is not enough when you're gearing up two kids.
This stroller is incredible for two babies. Jeep Wrangler stroller wagon is car seat compatible and offers three ways of riding- car seat mode, stroller mode, and wagon mode. So, carrying your kiddos in Jeep is really a fun and also flexible.
It features adjustable UPF 50+ sun-protective canopies, pull down sheds, wide range of storage capacity, and also easy to fold within a few seconds.
Its impeccable functionalities like wheel suspension, all-terrain tires, adjustable handlebar, on-step foot-brake, easy cleaning solution, and every other thing will allow you to explore your family adventures out there with your kids.
What I like about Jeep Wrangler stroller wagon:
Jeep Wrangler costs half of the Veer Cruiser but it's designed with more convenient features. I like this stroller wagon because it folds very compactly, and has more safety features like the drop-down cover, two handle bars, and more. So, there is no need to spend more money on accessories.
What I don't like about the Jeep Wrangler stroller wagon:
The wagon is heavier than Veer; it weighs 45.5 which is 13 lbs more than Veer Cruiser. Despite the weight, it's really a price-worthy stroller wagon in the market.
Veer Wagon Comparison Table
| | | | | | |
| --- | --- | --- | --- | --- | --- |
| Features | Veer wagon | Keenz | Wonderfold | Jeep Wrangler | Evenflo Pivot Xplore |
| Images | | | | | |
| Weight | 32.5 lbs | 32 lbs | 34 lbs | 50.4 | 34.7 lbs |
| Weight capacity | 110 lbs | 110 lbs | 190 lbs | 110 lbs | 110 lbs |
| Age Limit | 6 months (minimum) | 1 year (minimum) | 6 months (minimum) | 6 months (minimum) | 6 months (minimum) |
| Safety Features | 3-point harness | 5-point harness | 5-point harness | 5-point harness | 3-point harness |
| Car seat compatibility | Yes | No | No | Yes | Yes |
| Handle Bar | Adjustable | Adjustable (two) | Adjustable | Adjustable | Adjustable |
| Canopy | No | Yes | Yes | Yes | Yes |
| | View on Amazon | Out of Stock | View on Amazon | View on Amazon | View on Amazon |
Veer Wagon Review: Conclusion
I hope your worries are gone for good as you're at this point of Veer Wagon review. Despite the price tag, you'll will love the impeccable performance of Veer wagon. If you're thinking to purchase this wagon, or purchase any package of Veer Cruiser, including Cruiser + Infant/Toddler Essentials, and Cruiser + Travel System Essentials, go for it. You won't regret as you're paying for quality!
FAQ: Veer Wagon Review
Can You Take a Wagon on A Plane? 
Flying permission with a wagon depends on airline carriers. However, collapsible wagons can be allowed to be get checked at airports. For example, Veer Cruiser Wagon is fit through most TSA scanners and can be gate-checked. 
Is The Veer Wagon Worth It? 
While considering the value of money, Veer Cruiser is worthy as it provides you with premium quality. The wagon is suitable for traveling as it's car seat compatible and folds very compactly (almost flat position). Apart from it, Veer Cruiser has a bulk of accessories to offer its users to ensure their most convenience. So, yes. Purchasing a premium quality wagon like Veer Cruiser is worth it. 
Can You Use Veer Wagon for Beach? 
Veer Wagon can be used on the beach. This all-terrain wagon is easy to maneuver on the sand, and other terrains. 
Can You Use a Veer Wagon at Disney? 
No. You won't be allowed to use a Veer Wagon at Disney or Disneyland. Due to the restrictions applied on May 19, 2019, you can't use wagons and stroller wagons at the Walt Disney World Resort theme parks, water parks, and Star Wars: Galactic Starcruiser. 
Related Posts

Mima Xari Stroller Review
The Ultimate Thule Sleek Review
Joolz Day 3 Stroller Review