Jogging strollers are durable, easy to maneuver, and have improved suspension than a regular full-sized baby stroller. These strollers are purpose-built for parents who want to stay active while spending precious moments with their tiny tots. They're designed to handle the bumps and jolts of outdoor terrain like a champ, all while providing a smooth and comfortable ride for your little one. With a jogging stroller, you can maintain your fitness routine and parenting duties at the same time. If you're a parent who desires to stay active, enjoy the outdoors, and share with your baby, then a jogging stroller should be on your radar while buying a stroller. Let's get to know all about jogging strollers: advantages, disadvantages, tips, how to choose one, and much more. Let's trot!
What Is A Jogging Stroller?
A jogging stroller is a three-wheeled buggy as opposed to the four wheels found on traditional strollers. These wheels are larger and often equipped with air-filled rubber tires designed to absorb any bumps on uneven terrain you may come across during your outdoor adventures. Additionally, jogging strollers come with a lockable front swivel wheel to ensure stable and precise wheel alignment.
A jogging stroller is a robust and highly maneuverable stroller crafted to ensure your baby's comfort during extended journeys across various terrains. These strollers boast essential features to give your baby a cozy ride and grant you confidence when running, jogging, or hiking with your little one.
Why Should You Consider A Jogging Stroller?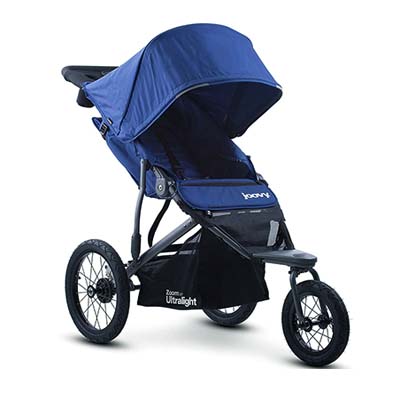 If you are walking around smooth, polished streets, then regular strollers will be just fine. But if you plan to run or go out on a short sprint with your child, then jogging strollers are a must-have baby accessory. Jogging strollers have excellent maneuverability and can be easily pushed regardless of what surface you are on.
Like normal strollers, jogging strollers also offer a seat reclining option, a canopy, padded seats, and a basket to store necessary items. Additionally, you get a convenient wheel locking mechanism, hand brakes, fat tires, and strong suspension. For these features alone, some parents use jogging strollers as their regular strollers.
Pros and Cons of A Jogging Stroller
A jogging stroller can be a valuable addition to your parenting journey if you're an avid runner and want to stay active while spending time with your kid. However, it's essential to weigh the pros and cons carefully to determine if it's the right fit for your lifestyle and budget.
Pros:
A jogging stroller allows you to go for a run while taking care of your kid. It's a win-win condition, helping you stay fit and bond with your little one.
Uneven pavement is no problem. A jogging stroller is a great investment if you need to run on a path with more bumps and roots than a smooth, flat road.
Jogging strollers are designed to be safe for both you and your kid. They typically have locking front wheels, hand brakes, and reclining seats with safety harnesses.
Jogger strollers are typically stylish and sporty enough to match your personality. If you want to steer clear of that 'mom' look and keep things 'sporty', a jogging stroller is just the ticket. These baby wheels are designed with a seriously sporty vibe.
Jogging strollers can also be used as regular strollers. It means you won't be limited just to the running sessions – a suitable investment for active parents.
Cons:
The going rate for a regular jogging stroller is between $100 and $600. Moreover, the cost rises as more bells and whistles are added.
Your youngster may not appreciate it, which is another potential issue. Let's face it: some kids probably won't want to run with you when you strap them in and go for a jog.
Safety Notes Regarding Jogging Strollers
Before you consider buying a jogging stroller, make sure your child is of the appropriate age. Babies need to develop proper head and neck strength and should be able to sit on their own. This change happens at around six months of age. However, I would recommend waiting a few months longer to ensure your child is absolutely capable of handling the pressure. For any off-road runs, it is recommended to wait at least eight months. Besides, babies develop physical strength at different rates, so before you head for running with your baby, consult your doctor first.
How To Choose A Jogging Stroller?
Jogging strollers are designed to keep your baby safe and comfortable while you hit the pavement or trail. However, not all jogging strollers are created equal. They come with various features that can make a big difference in your jogging experience. Let's break down the essential things to consider before choosing a jogging stroller.
Maneuverability (Wheels & Suspension)
Jogging strollers' wheels and suspension systems are designed to be more maneuverable than traditional strollers. Large air-filled tires, like those on bicycles, offer a smooth ride on various terrains. Some joggers also have a swivel front wheel for smooth maneuverability, which can be locked in place for jogging. Moreover, look for an advanced suspension system, which is vital for a smooth and comfortable experience, especially during faster jogs.
Durable Build
When choosing a jogging stroller, durability is paramount. Look for strollers constructed with high-quality materials, such as aluminum, that can withstand the wear and tear of your active lifestyle. A sturdy, durable build ensures your stroller will last through many miles and adventures and provide long-lasting value for your family.
Comfort
Whether walking or jogging, your little one deserves a comfy ride. Look for a stroller with a well-padded and supportive seat. Many jogging strollers offer various recline options, so your baby can nap or sit comfortably. Besides, a stroller should protect the kid from the elements. Look for an extended and UPF-rated canopy for added protection from the sun.
Lightweight
Jogging strollers are known for their sturdiness, but that doesn't mean they have to be as heavy as a tank. Although these strollers have robust frames and larger wheels, which naturally add to the weight, you can find lighter options available today. Look for a jogging stroller that weighs around 25 lbs. Lighter strollers will make your outdoor activities less cumbersome and more enjoyable.
Handlebar & Brake
The handlebar is your steering wheel. If you're sharing stroller duty with someone of a different height or if you're on the taller or shorter side, choose a jogger with an adjustable handlebar. Don't forget about the brakes. Check if the jogging stroller you're considering has reliable brakes. Brakes are essential for safety, especially when you need to stop quickly during a jog or navigate downhill slopes. Ensure the brakes are easy to engage and provide a secure hold.
Safety Harness
Ensure your jogging stroller has a five-point harness, including two shoulder straps, a waist belt, and a crotch strap. This setup will keep your baby comfortable and secure during the runs.
Final Words
With a jogging stroller, you can keep up your passion for running or staying active. These strollers are designed with large tires, robust suspension systems, and a durable frame that allows you to zip through parks, trails, and more, allowing your baby to enjoy cozy environment outside. Jogging strollers are not just about exercise; these strollers offer a way for parents to spend quality time with their little ones outdoors in a safe and comfy ride. 
Related Posts

What is a Travel Stroller?
What Is An All-Terrain Stroller?
What Is An Umbrella Stroller?

Amazon Disclaimer:

I research, test, review, and recommend the best products. My content is intended for informational and educational purposes only. If you buy something through links, I may earn a commission at no extra cost to you.

Stroller Insider is a participant in the Amazon Services LLC Associates Program, an affiliate advertising program designed to provide a means for sites to earn advertising fees by advertising and linking to Amazon.com. As Amazon Associates, we earn from qualifying purchases.