Traveling with a baby can be challenging, especially while sneaking through airports and flights with a stroller. Parents often drool over; what kind of stroller can I take on a plane? Should I have to pay extra? And so many queries. Provided that you must comply with airline policy to take a stroller on a plane, only strollers that are lightweight and compact are more convenient for a flight. So, what are the airline rules? Get ready to explore all you need to know about taking a stroller during a flight, including size and weight restrictions, foldability, storage options, and everything in between, so you can confidently jet off and ensure a smooth and hassle-free travel experience.
What Kind of Stroller Can I Take On A Plane?
Typically, lightweight, easily foldable, and compact folded strollers, such as GB Pockit Air, Joolz Aer, Babyzen YOYO2, and many more that fit in the overhead bin, are best suited for taking on a plane. Also, travel systems that are generally lightweight, easy to carry, and very compact fold, like Bugaboo Bee 6, Maxi-Cosi Zelia, and Thule Shine, can be easily taken on most airlines.
Full-size strollers like UPPAbaby Vista V2, City Mini GT2, or Silver Cross Jet 3 can be taken on an airplane.
Can We Take Stroller On International Flight?
A quick answer to this question is Yes, We can! Most airlines offer the option to check your stroller same as the luggage, free of charge. But some airlines require a gate check so the airline staff can take your things before boarding. A quick note to help you avoid any unexpected situation is if you plan to take a larger stroller onboard, ensure first that it is compact enough to meet airline requirements. Larger strollers typically require gate checks on international flights.
Is Baby Stroller Allowed In Flight?
Compact, umbrella strollers, travel systems or full-sized strollers that are compact and cabin-sized are allowed to take on an airplane. But most of these strollers need to be gate checked at the gate. Different airlines have different policies on carrying a pram as hand luggage. A collapsible stroller under 36″ in length and 10″ in width is allowed to carry on a plane. However, I strongly recommend getting in touch with your airline before you pack in to make sure your stroller size or weight complies with the specific airline. However, if you don't plan to carry your stroller on board as a carry-on, the size restriction is less of a concern.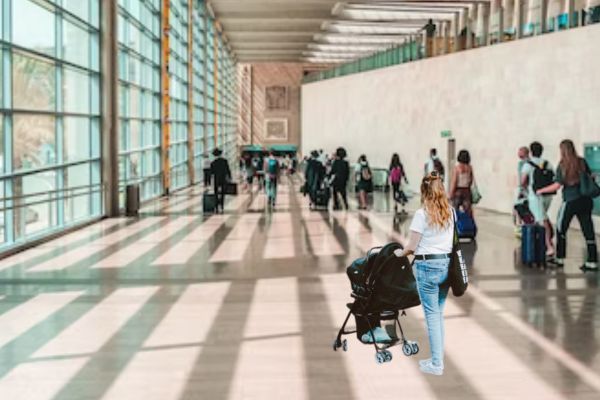 How Can You Travel With A Stroller?
You can travel with a stroller via three ways. Explore the various choices below:
Check Stroller with Checked Baggage
Some airlines offer a dedicated stroller baggage service. With this option, you can drop off your stroller at a specific counter, and the aircraft attendants will check your stroller as "checked baggage" and onboard it.
When you check the stroller as baggage, it is recommended to pack the stroller in a stroller bag since so many people will handle it. Another essential thing to keep in mind is that if your stroller is oversized, it will drop off at the oversized luggage counter by the attendants. The attendants will give a gate tag to take the strollers to the plane.
See Also: How to Protect Stroller When Flying
Gate Checked Strollers
If you have a gate-checked stroller, you have the convenience of taking it with you until you reach the boarding gate. Once there, it will be collected by the airline staff and stowed in the aircraft's hold. After landing, your stroller will be returned to you at the gate area, which is a convenient option for parents who immediately need to use the stroller after arrival.
See Also: Can You Gate Check A Double Stroller
Bringing Stroller Onboard
The chances of taking your stroller on board as a "carry-on" relies on the airline's size restrictions. Different airlines have varying policies regarding strollers as "carry-on" items. For instance, some airlines do not permit strollers on board at all, while others allow them but consider them part of your carry-on allowance.
Best Lightweight Stroller for Airplanes (My recommendation)
Specifications:
Dimensions: 28" L x 17.5" W x 39.8" H
Folded Dimensions: 11.8" L x 7" W x 13.8"H
Stroller Weight: 10.4 lbs
Weight Capacity: 55 lbs
Harness Type: 3-Point
The Gb Pockit Air is an updated version of GB Pockit. It is ultra-compact and featherweight. The stroller also folds very easily into a compact shape. You can fold and carry it on your shoulder as a backpack and stand in immigration queues hassle-free.
The breathable mesh seat is comfortable for airport errands or any quick errands. However, the seat is not padded enough for hours of ride or taking a nap. Most ultra-lightweight strollers do not have a sizable storage basket; GB Pockit has an easily accessible storage bin underneath the seat to carry all the travel essentials.
Although it's ultra-light, the stroller is stable with a 4 double wheel design. Stable wheels empower the stroller to maneuver well on different surfaces. The compact shape will let you effortlessly glide the stroller through tight spaces. If you are in a rush through the airport, GB Pockit Air won't let you slug behind.
All these awesome features made the GB Pockit Air stroller stand out among the other lightweight strollers, and it's highly recommended for air travel for its portability and convenience.
Pros
Extremely lightweight
Ultra-compact folding mechanism
Easy to fold and carry
Compact enough to stand in immigration queues
Easy to store in a car trunk or an overhead bin
Cons
It will be hard to ride on the gravel paths in Europe
Small canopy
Popular Airlines Stroller Policy
Popular airlines generally have stroller policies that vary slightly from one another. Here is a general overview of stroller policies for popular airlines:
American Airlines
Customers can check out 1 stroller and 1 car seat for free. Strollers under 20 lbs must be checked as gate-check stroller. Strollers exceeding 20 lbs should be checked at the ticket counter.
Delta Airlines
Strollers and car seats are considered separate things from standard baggage and can be checked free of charge. To enhance your convenience, you have the option to check these items at different locations such as the curbside, the ticket counter, or the gate.
Southwest Airlines
Customers can check only 1 stroller without paying an additional charge. Southwest Airlines does not accept responsibility for any damage that may occur to strollers during transit.
United Airlines
United Airlines provides a complimentary allowance for customers traveling with babies. Each baby, including infants traveling on an adult's lap, is permitted to bring one stroller and one car seat or folding wagon without any additional charges. If you're traveling with large or non-collapsible strollers or a non-folding wagon, you can take it to the plane free of charge.
Air Canada
Air Canada allows carrying small collapsible umbrella-type strollers that meet specific size requirements: 36″ in length and 10″ in width. You have the option to check your stroller at the gate, which will then be returned to you at the aircraft door. Large strollers need to be checked in and count as baggage. Larger strollers may face space limitations, and there's a possibility that they might not fit on the aircraft, so I recommend carrying a compact stroller.
JetBlue
JetBlue allows you to bring any bags included with the ticket purchase, one stroller, and one car seat for each child.
Alaska Airlines
Alaska Airlines allows free transportation of strollers as checked baggage or at the gate.
WestJet
As a stroller goes into the plane, checked baggage should weigh under 50 lbs. The dimensions should fall within 157 centimeters or 62 inches.
AeroMexico
AeroMexico allows one stroller, bassinet, or baby carrier weighing up to 44 lbs. or a size dimension limit of 45 inches for free.
Spirit Airlines
Spirit Airlines offers free complimentary checking of one stroller and one car seat at the ticket counter or at the gate. Strollers will be waiting for you at your arrival city.
Frontier
The frontier allows free checking of one stroller when traveling with a baby. The stroller must be gate checked.
Volaris
When flying with Volaris you have the convenience of carrying your baby in a stroller all the way to the aircraft entrance. The stroller will be safely delivered to you at your destination.
Hawaiian Airlines
In Hawaiian Airline, if you get a gate tag you can gate check your stroller for free. Non-collapsible strollers or those weighing over 50 lbs must be checked as baggage. If the aircraft has enough space, you can bring your stroller on board beyond the regular carry-on baggage allowance. Otherwise, a larger stroller goes as a gate-checked item in the baggage compartment.
Allegiant Air
Allegiant Air allows strollers to be checked at the ticket counter or gate checked during boarding. You can check one stroller for free if you are a fare-paying ticket holder.
Virgin America
You can carry strollers for free. But the airline does not assume liability for the damaged items.
Final Word:  
When it comes to taking a stroller on a plane, it's essential to consider the specific regulations of the airline you're traveling with. Most popular airlines allow passengers to bring strollers on board, either as gate-checked items or as checked baggage, at no additional cost. However, there may be size and weight limitations that vary between airlines, as we mentioned above. Hope this post meets all your queries involving "what kind of stroller can I take on a plane" and help you enjoy a smooth and hassle-free travel experience with your baby.
Related Posts:

When Can You Take A Baby To The Beach
How To Fold UPPABaby Vista
Benefits Of Hiking With Baby