Attention, Disney-going parents! Do you want to make your stroller rides extra cool and comfortable? Don't lack behind in offering the comfort your baby deserves and choose the best stroller fan for Disney. Wave goodbye to those hot and sticky moments and welcome a refreshing breeze that will keep your baby cool and comfortable throughout the day. This little stroller accessory may not be a "notice-worthy" baby gear, but it can turn up as a "game changer" while battling discomfort. No more research headaches or endless scrolling – we've rounded up the top 5 stroller fans for you. So, buckle up, sit back, and let us take you toward the coolest, most adjustable, and safest stroller to turn your Disney trip into pure delight.  
How to Pick the Best Stroller Fan for Disney
Choosing a stroller fan for Disney doesn't require learning rocket science. However, it's worth considering certain criteria to make sure it's more than just a fancy accessory. Take, for instance, the longer lifespan of the battery is essential for Disney trips. Picture yourself on a day-long tour in Disney Park with your baby, and suddenly the battery drains out, and the kid gets distracted! However, there are a few essential things you need to consider so there is no mishap during a Disney trip:
Power Backup
When it comes to power backup options, stroller fans typically offer two choices: rechargeable or disposable batteries. Stroller fans with rechargeable batteries can be conveniently charged anytime in Disney parks using a USB cable connected to a power bank. On the other hand, disposable batteries require a change after drains. I recommend a stroller fan with rechargeable batteries if you want an uninterrupted ride at Disney parks. Not only are they easy to charge while strolling around, but they also eliminate the need to carry extra batteries.
How long does it take for a stroller fan to charge?
The charging time for a stroller fan depends on the particular model and its battery capacity. Generally, a stroller fan with rechargeable batteries takes around 2 to 4 hours to charge fully.
Adjustable Speed
The best stroller fan for Disney should have come with 3-speed adjustability: lower to a powerful breeze. Speed adjustability can be handy when your baby feels uncomfortable with the powerful breeze for a long time. In contrast, your baby might feel discomfort on hot summer days with the lower breeze. If you consider a stroller fan with speed adjustability, you can change it anytime as your baby needs.
Are stroller fans useful for Disney trips?
Stroller fans are handy on Disney trips during the hot weather. They provide a refreshing breeze that helps to keep your baby cool and comfortable during a daylong Disney trip. A stroller fan can keep the baby safe from heat exhaustion and humidity.
Adjustable Leg
Stroller fans generally have clips or twistable legs to attach to the stroller. Consider having the best fans for strollers on Disney trips with twistable legs so that you can use the fan for multiple purposes, i.e., in the baby's tent. Although clip-based stroller fans can be used multipurpose, they are not as convenient as stroller fans with twistable tripod legs.
Where should you place a stroller fan?
It is recommended to place the stroller fan in a higher position on the handlebar. It is because the air closer to the ground height possibilities to have dust and particles. Attaching the stroller fan higher up will attract less dirt and ensure cleaner airflow for your baby.
Safety
Ensuring your baby's safety is paramount when considering a stroller fan. It is an electrical device that will be attached to the baby's stroller for a longer time at Disney. So, consider having a stroller fan equipped with a safety cage with minimal spacing would be a wise choice. Such a secure design prevents the risk of reaching the baby's little fingers to the rotating blades.
Are pram fans safe?
Pram fans are safe and designed with a protective safety cage that prevents curious little fingers from accessing the fan blades. However, some pram fans have sponge blades and no safety cages. Though those blades are safe, as a parent, we can't compromise even if it has minimal risks.
List Of The Best Stroller Fan For Disney:
1. WiHoo Mini Handheld Stroller Fan (Best Overall)
At a Glance
Enjoy uninterrupted fun with the long-lasting battery, adjustable speed settings, and whisper-quiet operation of WiHoo Mini stroller fan.
Specifications
Dimensions: 4.3″D x 4.3″W x 11.3″H
Weight: 8 Ounces
Battery Life: 4.5 to 10 hours
Speed Adjustability: 3
Noise Level: 35db
Color Option: Yes
Rating
Beat the heat at Disney parks with the WiHoo Mini stroller fan. With a long-lasting lithium rechargeable battery lasting up to 10 hours, enjoy a pleasant and uninterrupted Disney trip from dawn to dusk. And oh, you can recharge it easily with the included USB cable to have endless fun without worrying about power. The innovative tripod leg design allows for effortless attachment to your stroller handlebar. Twist and secure the fan in any direction, providing a cooling breeze exactly where the baby needs it most. No more fumbling with bulky fans or worrying about your baby overheating. I like WiHoo Mini's adjustable speed settings, ranging from gentle natural wind to a powerful breeze. Thanks to the upgraded fan blades, the WiHoo Mini operates whisper-quiet even at higher speeds, ensuring uninterrupted fun for your little one on Disney trips. Obviously, safety is paramount, which is why the WiHoo Mini features a silicone safety cage. Rest easy knowing your baby's delicate fingers are protected from the fan blades that allow worry-free exploration and playtime. With utmost comfort, convenience, and safety, the WiHoo Mini stroller fan stands as the overall best stroller fan for Disney on my list.
Pros
Tripod legs
Quieter noise level
3-speed options
Color options
Multipurpose
Cons
Longer battery charging time
Buy this if
You prefer an all-around stroller fan. WiHoo Mini Handheld stroller fan offers safety, utmost comfort, a longer battery timespan, adjustable legs, and adjustable speed; all you can expect from a stroller fan.
Don't buy this if
You find longer charging time a hassle. WiHoo Mini Handheld Stroller Fan takes 3.5 hours to charge. You can consider the DGLK stroller fan instead.
---
2. F170 Clip-On Fan (Best Stroller Fan for UPPAbaby Vista)
At a Glance
Explore Disney parks for 2 to 3 days without concern. Securely clamped with the wider handlebar like UPPAbaby Vista.
Specifications
Dimensions: 5.7″D x 3.7″W x 9.1″H
Weight: 12.6 Ounces
Battery Life: 6 to 40 hours
Speed Adjustability: 3
Noise level: less than 40bd
Rating
Make your Disney trips a breeze with the Comlife F170 stroller fan! With an exceptional battery runtime of 6 to 40 hours, this fan is perfect for 2 to 3 days of delightful adventures. Equipped with a built-in 5000 mAh rechargeable battery, the Comlife F170 ensures an uninterrupted cooling experience for an entire trip. And for your convenience, it comes with a USB cable that comes handy to recharge the fan anytime, anywhere. No more worries about running out of power when you need it most! When your baby is feeling humid or in need of a constant, refreshing airflow, the one-directional breeze can be tiring. Whether your little one needs a gentle breeze or a refreshing gust, the Comlife F170 has got you covered with 3 adjustable speeds. The auto oscillation of Comlife F170 lets the fan swivel from side to side to make air circulation evenly.
But that's not all. The Comlife F170 stroller fan is designed with a flexible clamp that easily attaches to any stroller, including the wider UPPAbaby Vista. You can rest assured that the fan will securely stay in place without any chance of falling on your kid.
Pros
Extensive battery life
3-speed adjustability
Compact design
Rotates any direction
Operates quietly
Cons
Higher price tag than other stroller fans
Buy this if
You need a stroller fan with an exceptional battery lifespan. Comlife F170 has a longer battery lifespan and will be more than enough for 2 to 3 days of Disney trips.
Don't buy this if
You are not willing to spend around $30 for a stroller fan. Comlife stroller fan comes with a slightly higher price tag of $29. You can consider the BRIGENIUS stroller fan ($15) instead.
---
3. DGLK Stroller Fan (Best Bladeless Stroller Fan)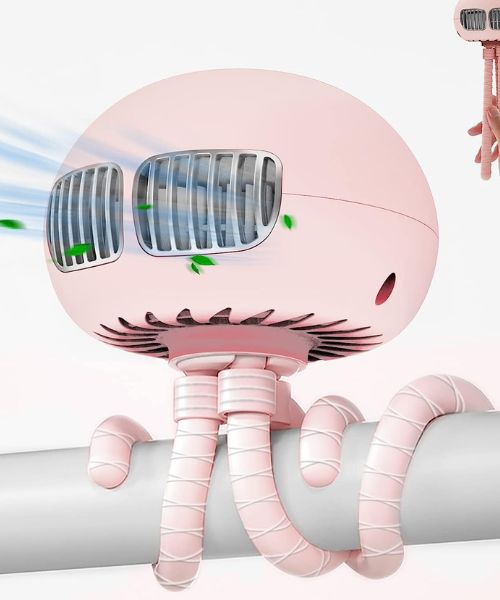 At a Glance
Stylish, alien-like appearance, safer bladeless fan to keep your little one more safe and secure.
Specifications
Dimensions: 1.85″ D x 7.87″W x 7.4″H
Weight: 12.2 ounces
Battery Life: 15 hours
Speed Adjustability: 3
Color Option: Yes
Rating
If you prioritize safety over anything, the DGLK Stroller fan waves goodbye to safety concerns as this fan is bladeless. Its innovative and flexible tripod metal legs, covered with ABS plastic, allow you to attach it in any direction to your baby's stroller or car seat. Enjoy up to 15 hours of continuous cooling bliss with its powerful built-in lithium rechargeable battery. The DGLK Stroller fan will keep your baby comfortable throughout the day, from the exhilarating morning parades to magical nighttime fireworks. Not only does it prioritize safety, but the DGLK Stroller fan also adds a touch of whimsy to your Disney experience. Its adorable alien-like design will delight your little one, making every moment in Disneyland even more enchanting.
Worried about disturbing your baby's peaceful slumber? Fear not! The DGLK Stroller fan operates with a whisper-quiet motor, allowing your little adventurer to doze off undisturbed during those long day trips.
Pros
Stylish design
Bladeless
Rechargeable battery
Compact size
Multiple speed
Cons
Provide less powerful breeze
Buy this if
You are looking for a harmless, stylish, and secure fan. The DGLK stroller fan is bladeless and cannot reach your baby's little finger to the fan blade.
Don't buy this if
You prefer a stroller fan with a powerful breeze. If your baby has heat exhaustion and needs a powerful breeze most of the day, you can consider Comlife F170 Clip-On Fan instead.
---
4. AMACOOL Battery Operated Stroller Fan (Best Multipurpose Stroller Fan)
At a Glance
Portable, can use as multipurpose fan, has a LED light, and baby friendly stroller fan.
Specifications
Dimensions: 2.5″D x 5.4″W x 11″H
Weight: 12 Ounces
Battery Life: 2.5 to 10 hours
Speed Adjustability: 3
Noise level: 30dB
Color Option: Yes
Rating
Introducing the AMACOOL stroller fan, a compact powerhouse that can conquer the hottest days with its impressive battery lifespan of up to 10 hours. This mini wonder attaches effortlessly to strollers and car seats, thanks to its three sturdy tripod legs. Besides, you can adjust the airflow to perfection at three different speeds and ensure your baby stays cool and comfortable. The fan's 360-degree rotation feature evenly distributes refreshing breezes, creating a soothing environment for your little one. No need to fret about battery life during your Disney days – the AMACOOL fan comes with a rechargeable battery. Simply charge it each night, and you can enjoy worry-free cooling throughout your entire Disney adventure. With a baby-friendly safety cage, it shields tiny fingers from any potential harm. Plus, the fan is not just practical but also adds an extra delight with its LED light. Let your little one explores Disney's magical world, even during nighttime, as the fan provides an additional light source and fun moments.
Pros
Fun colors
The fan head can be adjusted
LED light
Flexible, bendable legs
Creates less noise
Buy this if
You prefer a multipurpose stroller fan. You can use an AMACOOL stroller fan as a desk, beach, and office fan. Besides, this stroller fan has a 3D light with an adjustable light that helps to explore Disney's evening adventures.
Don't buy this if
You prefer having a stylish stroller fan. Instead, you can consider the DGLK stroller fan to add extra delight for your baby at Disney.
---
5. BRIGENIUS Battery Operated Clip on Stroller Fan (Most Affordable)
At a Glance
Most affordable, Rechargeable lithium battery, sturdy clip-on fan, can use also as a desk fan.
Specifications
Dimensions: 7.4″ D x 5.31″ W x 4.72″ H
Weight: 9.6 Ounces
Battery Life: 2.5 to 6 hours
Speed Adjustability: 3
Noise level: under 40 dB
Color Option: Yes
Rating
If you're in search of an affordable yet powerful fan for your stroller, look no further than the BRIGENIUS Clip-On Stroller Fan. This versatile fan easily attaches to your stroller and doubles as a desk fan when needed. No more hassle with flimsy legs to keep it steady on a desk – the BRIGENIUS fan is designed for stability and convenience with its sturdy clip. While the battery life of up to 6 hours is decent, you won't have to worry about running out of power at Disney. The fan comes with disposable batteries for quick and convenient use, and for added convenience, it includes a USB cable so you can easily charge it anytime, anywhere. The stroller fan has a protective cage to keep little fingers out of harm's way. With three adjustable speeds, you can adjust the airflow for your baby's comfort. From a gentle breeze to a power gust, the BRIGENIUS fan has the perfect setting to keep your little one cool and content.
Pros
Affordable
Powerful breeze
Multipurpose
360-degree rotation
Charging takes only 1.5 hours
Cons
Battery life could be better
Buy this if
You prefer a lightweight and stylish stroller fan with so many color options. WiHoo Mini Stroller fan has 4 color options (black, blue, pink, and white) to choose from.
Don't buy this if
You need a stroller fan with a longer battery life for extensive use. Instead, we recommend a DGLK Stroller fan with a runtime of up to 15 hours.
---
Verdict:
Disney should be a place of joy and excitement, not a setting where your little one feels uncomfortable and overheated, whether it's summer or in crowdy events. While a stroller fan may not be a complete solution to beat the heat, as parents, we cannot overlook the benefits these small accessories offer to keep babies cool and comfortable. So, don't let the heat steal the joy, and invest in the best stroller fan for Disney. These fans are safe and have longer battery runtime to ensure a pleasant experience for both you and the baby on Disney trips.
Related Posts

Best Stroller Organizer For Uppababy Vista
Best Stroller Sunshade
Best Stroller Organizer