Often stroller manufacturer does not include stroller organizer in the box; hence parents need to purchase them separately. Although these are just an organizer for your accessories, while buying a stroller organizer, you should care if it fits the stroller and if it will accommodate all your items on the go. Best stroller organizers are made of durable material and have multiple compartments and separate cup holders. On top of it, not all of the stroller organizers can be attached to all types of strollers. For example, StrollAir – Universal Best Double Parent Stroller Organizer is only suitable for double strollers. Based on all these factors, I have scrutinized 35 organizers and, after testing, narrowed down to the top 5 organizer for strollers that you can consider buying to carry all your essentials on the go. Let's peek at them. 
List of the Best Stroller Organizer
| | | |
| --- | --- | --- |
| | | |
| | Best Affordable Stroller Organizer | |
| | Best Versatile Stroller Organizer | |
| | Best Compact Stroller Organizer | |
| | Best Premium Stroller Organizer | |
| | Best Double Stroller Organizer | |
1. Skip Hop Universal Stroller Organizer (Best Affordable Stroller Organizer)
Specifications
Dimensions: 16 x 3 x 6 inches
Weight: 0.6 pounds
Material: Neoprene
Colors: 4 color options
Care: Machine wash
Skip Hop is a universal stroller organizer featuring adjustable straps so you can easily install it on most strollers, including an umbrella stroller. While scrutinizing, I found its attachment strap is strongly connected to the bag in a way that there is no chance of tipping over. You can hang the bag on the stroller bar or handlebar based on your convenience. This Skip Hop stroller organizer comes up with a detachable wristlet which is handy when you're shopping. On top of it, it can be folded with the stroller.   
The budget-friendly Skip Hoe Universal stroller organizer comes with two zippered external pockets that allow you to keep different items like keys, air pods, etc. Its two insulated drink holders will keep your coffee or baby's milk bottle warm at the same time. Besides, this affordable stroller organizer is easy to use and easy to clean (machine washable). To sum up, the organizer has adequate storage pockets and cup holders, and it's very convenient to use, making it the overall best stroller organizer on our list.
Buy this if you want an affordable stroller organizer with all the necessary features, including a spacious compartment and durable attachment capacity.
Don't buy this if you're looking for a premium or high-end organizer.
Pros
Fit almost every stroller
Three interior compartments, including two cup holders
3 Exterior zippered pockets
Insulated drink holders
Folds with the stroller
Soft and lightweight
Machine washable
Cons
Not compatible with dual-handle strollers
2. Momcozy Universal Stroller Organizer (Best Versatile Stroller Organizer)
Specifications
Dimensions: 12.9 x 4.3 x 6.7 inches
Weight: 1 pound
Material: Oxford fabric
Colors: 7 color options
Care: Wipe clean
As an active parent, I've been using BOB Revolution Flex 3.0, but it did not include a stroller organizer, so I bought the Momcozy Universal Stroller Organizer. Why?
The Momcozy Universal Stroller Organizer is durable, affordable, and versatile (can be used in different ways); you can use it as a stroller organizer with a strap or hook or as your side bag. It features two different insulated cup holders to hold baby bottles or your coffee tumblers; its middle compartment can hold baby diapers. The stroller comes with multiple zippered pockets to store your valuables and a mesh compartment for the phone. However, unlike Skip Hop, you cannot keep the bag attached to the stroller while folding. Overall, it's easy to use and can be your good companion outdoors.
Buy this if you're looking for a versatile stroller organizer for multiple purposes; you can utilize this bag as a stroller organizer or as your personal handbag.
Don't buy this if you need a stroller organizer for lightweight strollers. However, you can consider Diono Buggy Buddy.
Pros
Adjustable Velcro straps
Insulated two compartments for drinks
compartments to store valuables
Can be transformed into a shoulder bag
Both straps and hooks for attachment
Compatible with high-end strollers
Cons
May not be suitable for a lightweight stroller
3. Diono Buggy Buddy Universal Stroller Organizer (Best Compact Stroller Organizer)
Specifications
Dimensions: 12.4 x 4.5 x 4.7 inches
Weight: 0.5 pounds
Material: Polyester
Colors: 2 color options
Care: Wipe Clean
The Diono Buggy Buddy, is compatible with different types of strollers, including travel systems and compact strollers. You can conveniently use this organizer for short-time outings, like grocery shopping, or for a short walk where you don't have to carry a lot of things. Although this organizer is not as spacious as the Momcozy Universal Stroller Organizer, it serves the purpose well.  
Diono Buggy Buddy is a petite organizer that features easy hook and loop straps by which you can attach it to many strollers. Like other organizers in my list, this organizer also features two insulated stretchy cup holders. There's also a mesh zippered inner compartment to store your accessories. The large compartment in the middle is there to carry larger items. This organizer is made from 100% polyester, and it's recommended to wipe clean.
Buy this if you need a compact stroller organizer, and limited storage is not an issue for you.
Don't buy this if you want a larger storage organizer that has multiple storage compartments and zipper pockets. However, the next-in-line Ethan and Emma Universal Baby Stroller Organizer can be the 'best fit' for you.
Pros
Universal stroller organizer
Durable straps
Also compatible with ultra-compact strollers, travel system
Two insulated cup holders
Comes with zippered mesh pockets
Affordable
Cons
No external pockets
Limited storage
4. Ethan & Emma Universal Baby Stroller Organizer (Best Premium Stroller Organizer)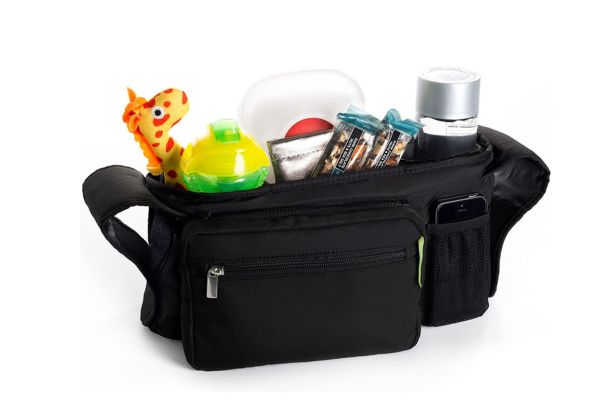 Specifications
Dimensions: 13 x 4 x 6.5 inches
Weight: 0.75 pounds
Material: Polyester
Colors: 1 color option
Care: Wipe Clean
Ethan and Emma Universal baby stroller organizer is made of durable, waterproof, and can be used with a wide range of strollers. This stroller organizer features several zipper pockets to store all your valuables safely. Moreover, the organizers have two insulated cup holders to carry your bottles or beverages. However, I would recommend avoiding hot beverages in this organizer while moving the stroller since the beverages might spill, and it's not machine washable.   
This universal fit stroller organizer comes with material-grade adhesive Velcro straps that strongly stick to the stroller handle. Although Ethan and Emma Universal stroller organizer adjusts nicely to regular strollers, it's not recommended to use it in double strollers. However, its convenient features offer parents an easy-to-use stroller organizer for their regular life.
Buy this if you're looking for a universal stroller organizer that is premium built and conveniently adjustable with most single strollers.
Don't buy this if you need an organizer for your double stroller. Instead, you can check out the StrollAir universal double stroller organizer.  
Pros
Multiple compartments and zippers pockets
Premium and durable built
Velcro straps to adjust on most strollers
Adjustable and durable attachments
Larger and spacious
Convenient to use
Cons
Not suitable for double strollers
5. StrollAir – Universal Best Double Parent Stroller Organizer (Best Double Stroller Organizer)
Specifications
Dimensions: 26 x 4 x 5 inches
Weight: 0.99 pounds
Material: Nylon
Colors: 2 color options
Care: Wipe clean
StrollAir universal double stroller organizer is an extra wide organizer, the only double stroller organizer in this list. This stroller organizer is around 26 inches wide and features five adjustable Velcro straps to adjust tightly with the stroller handlebar.   
This double stroller organizer has two separate compartments along with several exterior and interior pockets for storing your necessary items. There are also two insulated drink holders; one comes with a drawstring to keep your taller bottles in place. Apart from the compartments, this double stroller organizer is easy to wipe clean when it gets messy.
Buy this if you need a double stroller organizer that has a durable built, spacious compartment and is also easy to use.
Don't buy this if you're looking for an organizer for a single stroller. This StrollAir universal double stroller organizer won't fit with a single stroller.
Pros
Durably built and attachment straps
Fits side-by-side double strollers
Spacious multiple compartments
Five Velcro straps
Insulated drink holders
Easy to clean
Cons
Expensive
Only works for double strollers
How To Choose The Best Stroller Organizer
The market is loaded with so many stroller organizers, so how do you choose the best stroller organizer? While enlisting the above five stroller organizers, I have carefully considered the following factors:   
Compatibility
While purchasing an organizer for stroller, ensure it fits the stroller. Besides, there are universal stroller organizers found in the stores. There are also brand stroller organizers in the market. Among brand-compatible and universal strollers, universal stroller organizers are preferable since universal stroller organizers can be usable with the next stroller you bring in.  
Quality Straps
Stroller organizers are usually attached to the handlebar by hook-and-loop straps to withhold accessories, and some brands use clip-on options that are also convenient. Universal stroller organizers have adjustable straps that you can securely fit into the stroller handlebar. The attachment to the organizer should be sturdy and durable so it can withhold all the necessary items.
Cup holder
The best stroller organizer features one or two cup holders to carry all your beverages or baby's sippy cup. If you need to carry a milk bottle or coffee, or other beverages on the go, insulated cup holders will keep them hot.
Ease of Use
While looking for the stroller bag organizer, check out how easily and conveniently you can use it. From attaching the bag to the stroller handlebar to accessing your valuables easily, your stroller organizer should ease things up outdoors. Apart from it, cleaning the organizer is an important fact; check out if your stroller organizer is easy to clean. A machine washable stroller organizer is more convenient to use and maintain.  
Size & Compartments
The size of the stroller organizer bag will depend on your needs. A small to medium size organizer can carry your essentials for regular use, whereas larger bags are suitable while traveling for a longer duration. The more accessories you need to carry, the more spacious organizer you need.  
In addition, a stroller organizer should have separate storage compartments like mesh pockets, external and internal zippered pockets, keys, cards, wallets, and other valuables, in an organized way.   
Benefits of Stroller Organizer
A stroller organizer stores your essential items in a systematic way so you can stay organized while toting around. Here are some benefits of why you should spend on a stroller organizer:   
Parents can keep the essentials in separate compartments and quickly access them
Allows parents to be hands-free and relax while being outdoors
Cup holders allow carrying a coffee cup or milk bottle.
Waterproof stroller organizers keep valuables safe during rough weather.
Winding Up    
A stroller organizer will keep all your essentials and valuables close to your hand. So, before choosing a stroller organizer, make sure that it fits your stroller properly and has all the essential perks like waterproof, zippered pockets, cupholders, etc. One last piece of advice, avoid stacking items on the organizer so it won't tip over the stroller; instead, consider stowing them in the under-seat storage compartment.
Related Posts:

Best Stroller Rain Cover
Best Baby Carrier For Back Pain
7 Best Stroller Blankets