3-wheeled strollers are popular for better maneuverability, whereas 4-wheeled strollers have more features and better stability. In terms of use, three-wheeled strollers are recommended for jogging, hiking or trailing with the baby, whereas 4-wheeled strollers are best for everyday use. That's not all. There are other things to consider, such as manueverablity, safety, and comfort. Let me take you through an in-depth comparison between 3-wheel vs 4-wheel strollers so that you can decide for yourself.
3 Wheel vs 4 Wheel Stroller
3 Wheeled Stroller Review
3-wheeled strollers are very popular among active parents. They typically have two larger wheels at the back, increased stability and a smaller front wheel designed to offer easy steering along the road. 3 wheeled strollers are easy to push with one hand and usually have improved handles. There is a variety of 3-wheeled strollers available in the market, from lightweight models for everyday use to heavy-duty rugged strollers designed for jogging.
Pros
One hand push
Outstanding maneuverability
Various terrain capacity
Sporty modern design
Great for jogging and walking with the baby
Cons
Not safe for babies under 6 months
4 Wheeled Stroller Review
The 4-wheel stroller can be a regular or a traditional full-sized stroller with two same-sized wheels, both back and front. 4-wheeled strollers are typically designed for parents. 4-wheeled strollers are mostly compatible with bassinet and car seats and a wide range of accessories like cup holders, child's trays and so on. Moreover, typically 4-wheeled strollers come with larger storage space underneath the stroller.
Pros
Compatible with bassinets and car seats
Newborn-friendly
More stable
Added features
More storage
Cons
Not suitable for rough terrains
3 wheel vs 4 wheel stroller: Comparison
Safety:
Both 3-wheel and 4-wheel strollers are safe, but 4-wheel strollers offer more stability and balance. The wider base of 4-wheel strollers has better stability that prevents the risk of tipping over. However, high-quality 3-wheel strollers with features like lockable front wheels, better suspension, and sturdy construction also provide adequate safety for your baby's needs.
If you want a stroller that provides adequate safety, you can rely on both 3-wheeled and 4-wheeled strollers. However, 4-wheeled strollers are safer than the 3-wheeled stroller by design.
Comfort:
Both types of strollers provide comfort for your baby. Either 3-wheel or 4-wheel stroller baby's comfort depends on the well-padded seat and canopy. There can be a full-sized canopy in both 3-wheel and 4-wheel strollers to keep your baby cool and protected from the sun's harmful rays. On the top, you will find seat reclining in both stroller types.
So, whether you consider a 3-wheel or 4-wheel, both types of strollers are equally comfortable for babies.
Maneuverability:
4-wheel strollers require two hands to manuever and may be a bit difficult to glide through tight spaces. Whereas with the single front wheel, 3-wheel strollers are more agile, easier to navigate around corners, and easier to manuever with one hand.
If you want better manueverablility, and easier to push the stroller, 3-wheeled strollers are the better choice. However, parents who prioritise stability over manueverablility, prefer 4-wheel strollers.
Wheel:
3-wheel strollers come with one small front wheel and 2 large rear wheels. The small front wheel ensures the stroller's stability, while the rear wheels allow better maneuvering. Usually, the front wheel of a 3-wheeled stroller is 12″, while the rear wheels are 16 inches.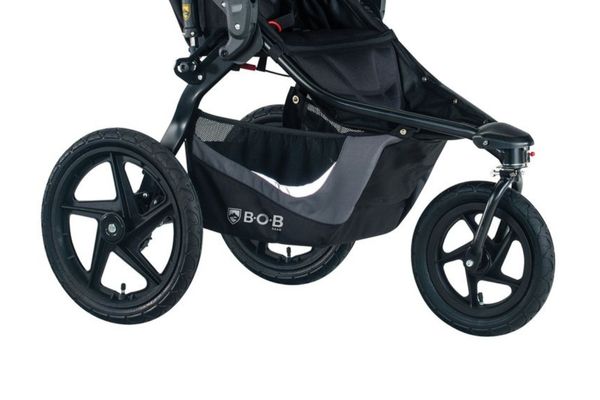 On the other hand, a 4-wheeled stroller comes with 4 similar-sized wheels, 2 at the front and 2 at the back. Typically wheel size of a 4-wheeled stroller is between 9 to 12 inches.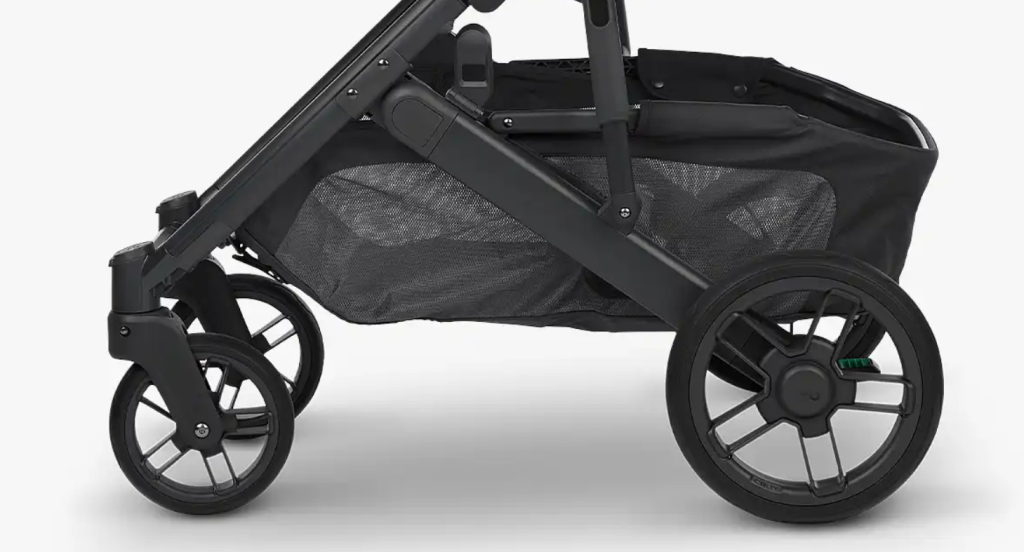 On uneven and bumpy terrains, you can rely on a 3-wheeled stroller, but 4-wheeled strollers are more suitable for day-to-day errands.
Age Limits:
Considering age limits, most 3-wheeled strollers are not recommended for infants as most of them do not come with a fully flat reclined seat. So, it's best to use it for babies from 6 months when the neck and back muscles have properly developed.
On the other hand, most 4-wheeled strollers you can use right after the baby's birth. Some of these strollers come with fully reclining seats to accommodate a newborn.
Who should use 3 Wheel Stroller?
If you are a parent who likes to jog with your baby, then without a doubt, 3 wheeled stroller is the best choice for you. It is also a better choice for parents who live in narrow alleys, as the front wheel swivel mechanism helps make turns easier. Moreover, the wheels would even handle all terrain.
Who should use 4 Wheel Stroller?
If you are looking for a stroller with many features and benefits for day-to-day use, a 4-wheel stroller is perfect for everyday use. Moreover, if your 4-wheeled stroller is compact, that's even easy to carry and store.
3 Wheel Vs 4 Wheel Stroller: Wrapping Up
Whatever you pick for your little one—3-wheel or 4 wheels stroller. I recommend choosing based on your usage. If you are more into an active lifestyle or can travel or hike to uneven terrain, a 3-wheeled stroller is for you; otherwise, a traditional, 4-wheel stroller has more to offer. I hope this article, 3 wheels vs 4 wheel stroller, helps you take the right decision.
FAQ:
Can you jog with a 4-wheel stroller?   
No, you cannot or should not jog with a 4-wheel stroller. The main difference is jogging strollers are designed, tested and engineered, keeping jogging purposes in mind. Everything from 3 wheels to an advanced suspension system in jogging strollers offers safety and comfort to your baby while you are trying to achieve new milestones.    
Related Posts:

Are Jogging Strollers Good For Hiking
Jogging Stroller vs Regular Stroller
Umbrella Stroller vs Regular Stroller